April 16, 2015
Dreamtime for Indigenous Australian Textile Designs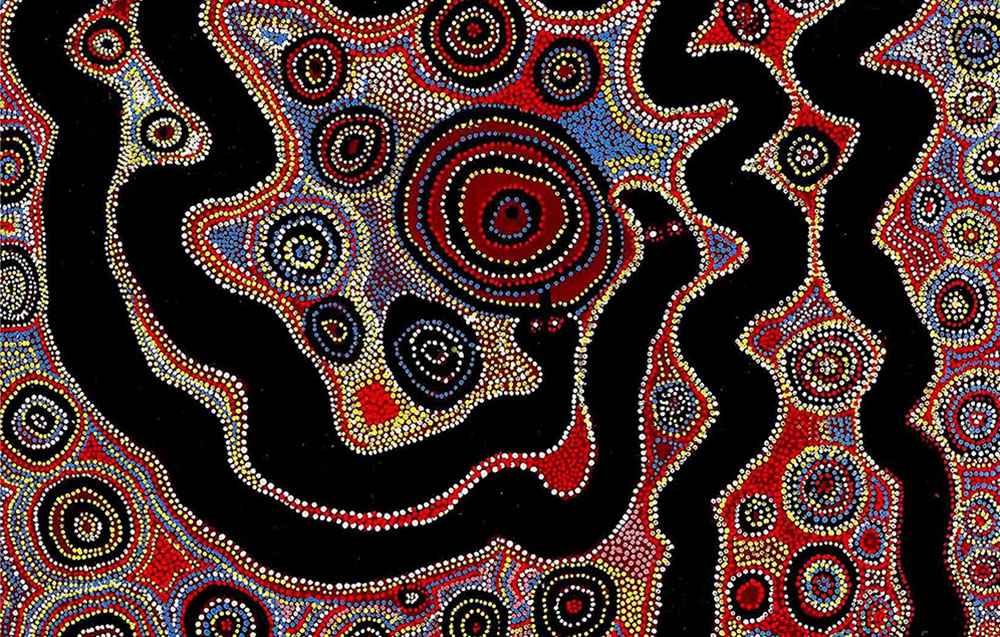 In anticipation of the British Museum's forthcoming Indigenous Australia exhibition, we look at the rise of Aboriginal textile designs in fashion and interiors.
Indigenous Australians' oral tradition and spiritual values are based upon reverence for the land and a belief in the Dreamtime – a sacred era when ancestral totemic spirit beings created the world. For over 40,000 years, Western Australian Aborigines have passed down dreamtime stories from generation to generation, often represented by ochre, sand, blood, charcoal from fires, and plant materials placed upon the ground. The stories are central to Aboriginal culture and its relationship to the natural world.
Abstract dot and circle paintings, depicting the arrangements of objects and the stories they tell, have become the trademark of contemporary Aboriginal art (as seen above in the painting by members of the Spinifex Men's Collaborative). The Rainbow Serpent, a major ancestral being for many indigenous people in Australia, provides the inspiration for many dot paintings. It is thus named because of the similarity in shape between a rainbow and a snake. When the rainbow is seen in the sky, it is said to be the Rainbow Serpent moving from one waterhole to another. It is viewed as a giver of life, through its association with water, but can be a destructive force if angry.
Recently, Australian textile and surface designs have begun to proliferate in fashion and interiors collections. Whilst this trend is linked to the wider adoption of hand painting techniques and tribal style in design, the dots and squiggles characteristic of Aboriginal art are set to be a distinctive feature of fabrics over the coming year.
Authentic Aboriginal fabric designs can be sourced from M & S Textiles. Each artwork is licensed and artists are paid a fair rate for their designs. All fabrics are 100% fine cotton and bright, but natural, colours are used extensively. Another source for indigenous Australian style fabrics features the works of Aboriginal artists represented by a gallery in Alice Springs. Their biographies and inspiration for their work can be found on the Aboriginal Fabrics website.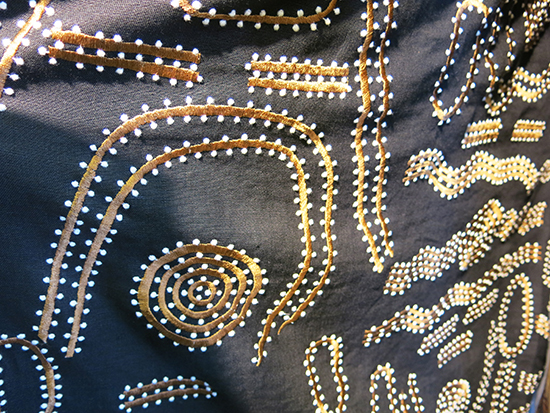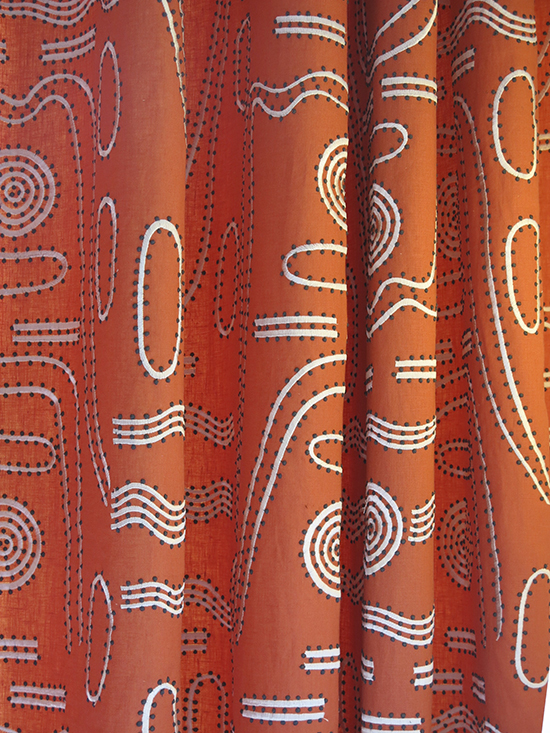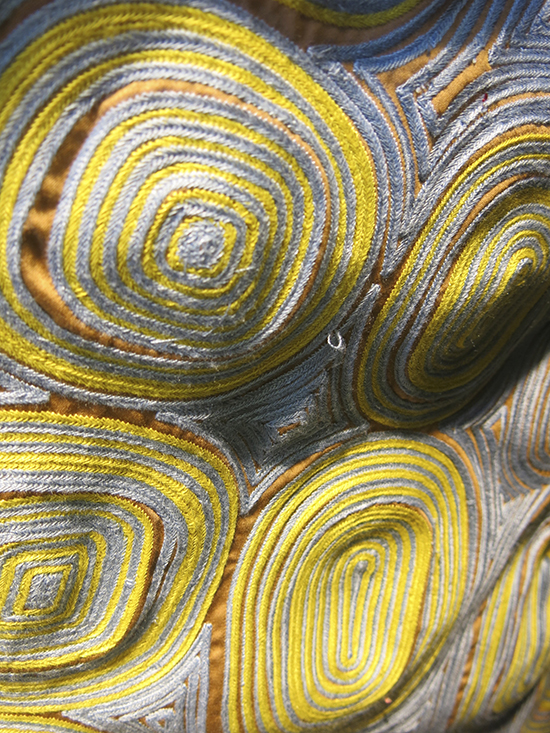 Meantime, closer to home, Pierre Frey's latest Origines collection (see above and below) is inspired by Aboriginal art, described by the company as, "a bridge between the sacred world, fantasy and contemporary art." Consisting of embroidered fabrics, prints and jacquards, the collection is "a tribute to the indigenous tribes who were able to depict with beauty and fortitude their surrounding elements, water and earth."
Aboriginal style fabric designs have been appearing increasingly on catwalks. In 2012, Rodarte designers Laura and Kate Mulleavy got into trouble when their fall collection featured Aboriginal art. A license fee was paid to the Aboriginal Artists Agency, but the fact that the designers had never been to Australia was taken as a slur against Aboriginal culture.
In 2013, Australian Indigenous Fashion Week (AIFW) was set up as a platform for Aboriginal and Torres Strait Islander designers to showcase high quality traditional and contemporary fashion, textiles, furniture, accessories and crafts. Following one successful event, the Sydney based organiser has now gone into liquidation, though a handful of indigenous art based brands including Desert Designs and Roopa Pemmaraju have hosted shows this year at Australia's Mercedes Benz Fashion Week.
Melbourne based
Roopa Pemmaraju
produces a luxury ready to wear line that features the original works of renowned Australian artists on ethically hand-woven Indian fabrics. Skilled artisans create hand woven fabrics, and carry out environmentally sustainable print-blocking and hand embellishment. Only natural dyes derived from organic sources are used. The company employs Fair Trade practices and royalties from the sale of each garment are returned to artists' communities.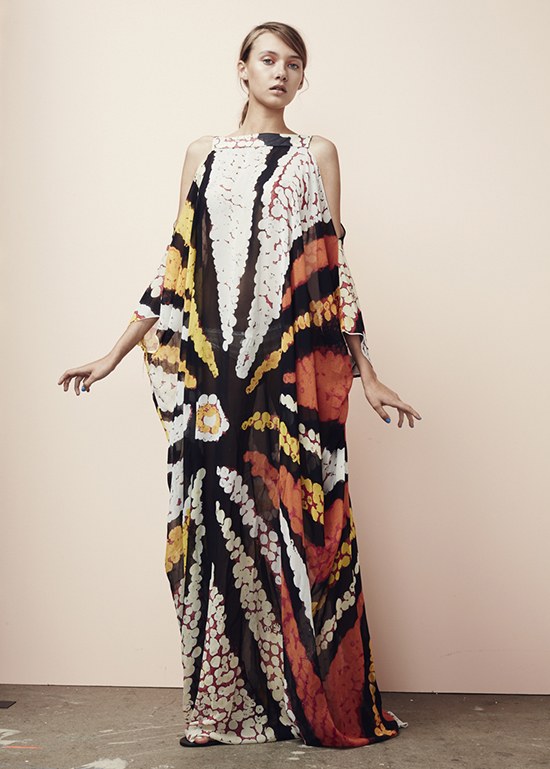 Read more on Indigenous Australian style in Issue 2 of Visuology Magazine.