October 2, 2019
Craft, Colour and Phenomenal Style: Zandra Rhodes Retrospective at Fashion and Textile Museum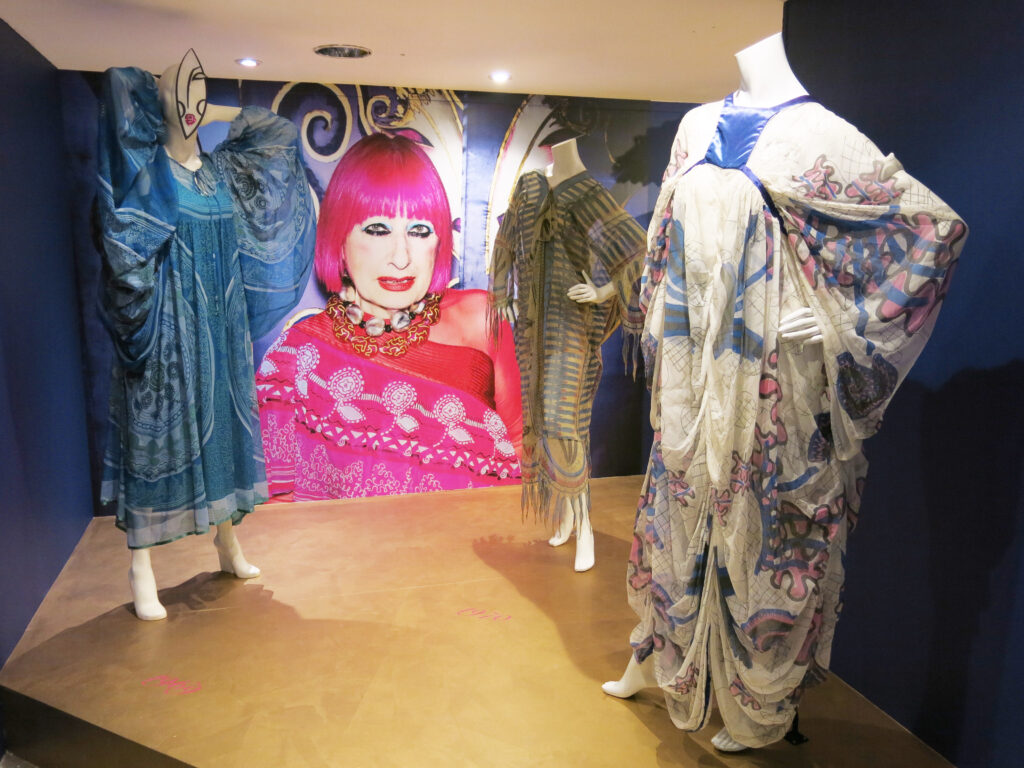 In a felicitous display of fabulosity, the latest exhibition at London's Fashion and Textile Museum – Zandra Rhodes: 50 Years of Fabulous – plays host to the lifetime's output of its colourful founder and resident, Dame Zandra Rhodes. The largest presentation of her work yet showcases a design for every year of her career, and lots more besides: visitors are welcomed into a world of manifold wonders spanning several decades, continents, collaborations and genres, encompassing Victorian bedspreads, punk, Princess Diana, Giuseppe Verdi and Freddie Mercury.
By way of dreamlike inspiration, intoxicating colour combinations and towering displays of spectacular gowns appear on this journey through the realms of a legendary creative force. Confections of silk organza, chiffon, wool and even denim are topped with Piers Atkinson designed masks, these 'magic heads' perfectly capturing the more surreal side of Rhodes's distinctively flowing fashion illustrations. Then there are the embellishments – the feathers, pearl beading, safety pins, mirrors, rhinestones, Swarovski crystals and sequins.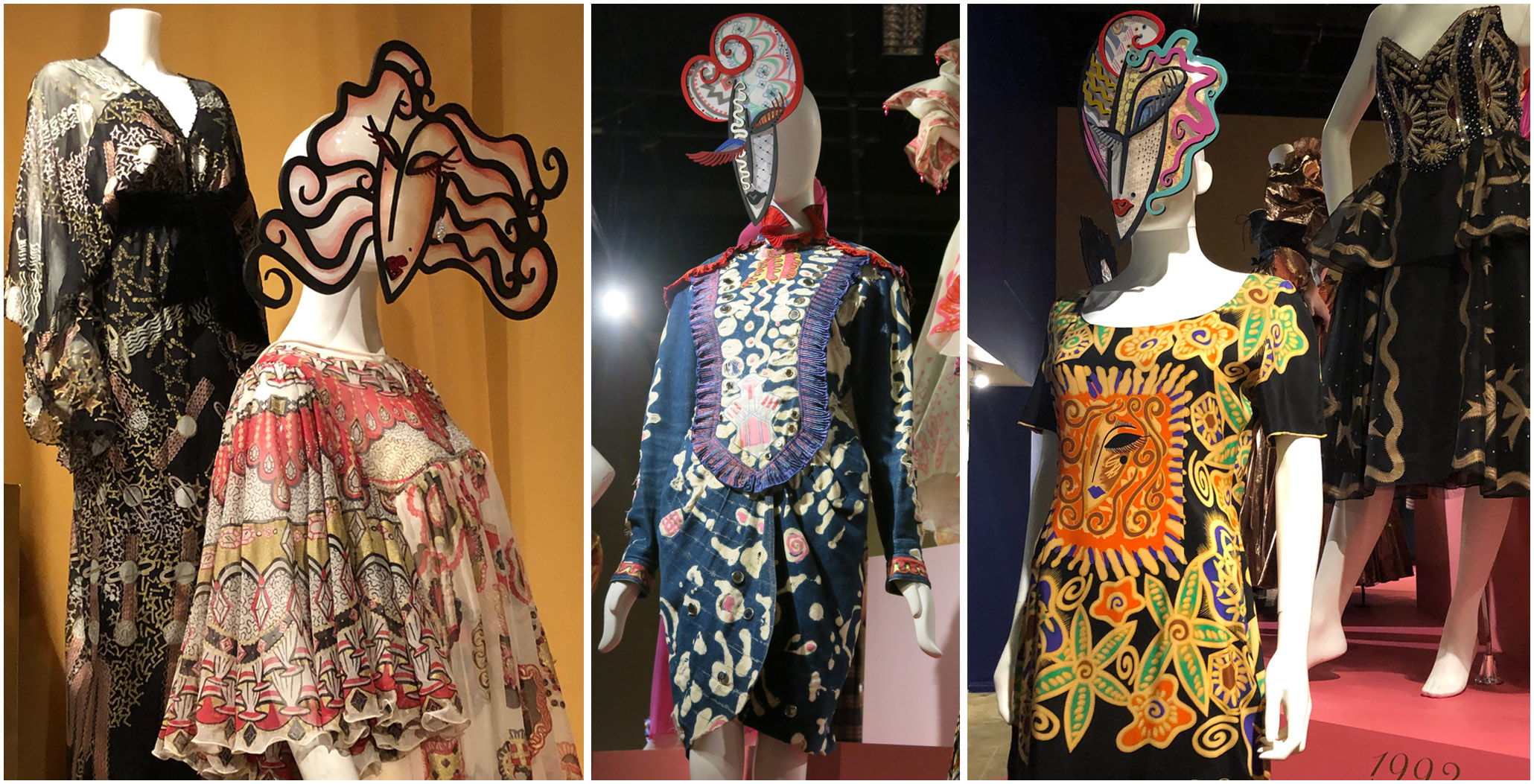 Whilst Rhodes's designs are said to be timeless, some have proved more enduring than others. A plunging V-neckline silk-chiffon dress from the Japanese influenced 1973 Field of Lilies collection (below) became her best selling garment – a flattering shape and fairy tale femininity assuring its place as a firm favourite with celebrities and royals, and the continued production of versions of the style to this day. Not so much is reported on the degree of her experimentation with fabrics and techniques. In the case of this dress, style number '73/44', the nature of the print informs the garment's design, which is cut without the aid of a paper pattern. Her wool felt 1971 'dinosaur' coat with external handcut seams predates the deconstructivist school of design by a couple of decades – and this is the first black version of the garment that has ever been on public display.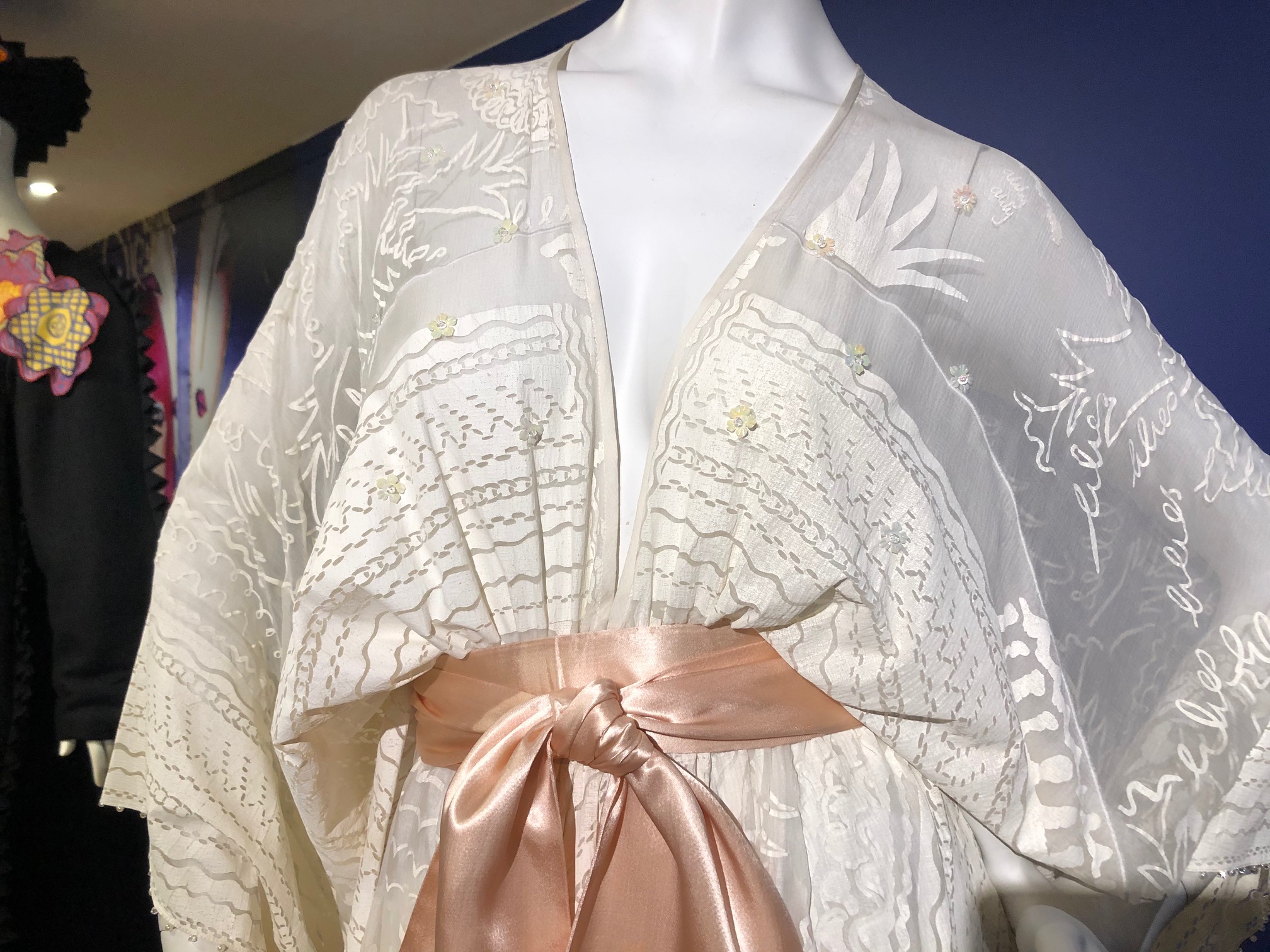 An ethereal 'forest of chiffons' is the ultimate articulation of a virtuoso of textile design. Whilst getting lost in the remarkable maze of gossamer, one never loses sight of Rhodes's unique style and ability to tell a story through print. We also get to see the process behind the thinner-than-tissue-paper fabrics, involving carefully thought out patterns, strong arms for screen-printing and the cutting of delicate, slippery fabrics. Each print takes about two to three months to develop and she aims to create two prints per season. These days it is also quite rare for all aspects of textile manufacture, from printing to construction, to be carried out by the same company working from a single studio.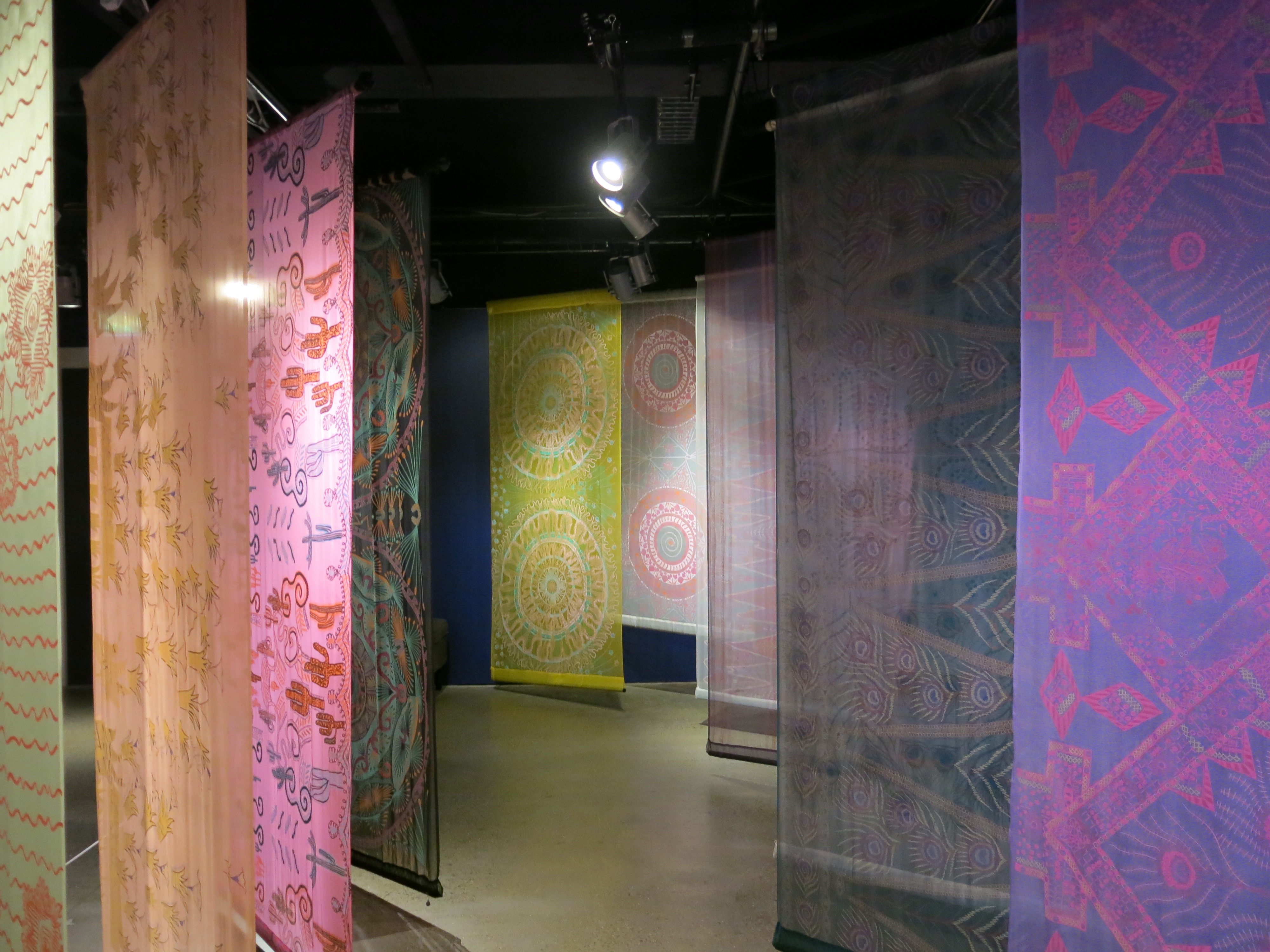 Rhodes's theatrical style lends itself to the stage, and a selection of her costume designs for several leading opera companies does not disappoint. It is here she can let her imagination run riot and go to town with the silver and gold, as with the armoured Fire Guard and Water Guard characters from the Magic Flute. For The Pearl Fishers, inexpensive saris in pale blues and greens were purchased and the borders and pallus printed over with shells to evoke clothing from a fishing village.
An accompanying booklet charts the timeline of Rhodes's cross-disciplinary career and, thanks to the dedicated research of curator, Dennis Nothdruft, the story behind each dress on display – from the pop art style of her early lipstick prints right up to a sheer flowing kaftan from her latest Jubilee Collection for 2020, the year in which Dame Zandra turns 80. Her international acclaim extends to every part of the globe, she says that many Indian people believe she was single-handedly responsible for starting their country's fashion industry, after she was invited to collaborate with The Handicraft and Heirlooms Exports (HHEC), a government of India textile producing initiative. The Japanese even chose her to represent Indian fashion in their Festival of India.
A separate room, The Fashion Studio, is devoted to Dame Zandra's design sketchbooks, collectively known as 'The Bible'. Her sketches tell a story of daily observation, exotic international travel and an underlying fascination with Max Tilke's definitive work on traditional costume patterns and folk designs from around the world. Banana leaves from a trip to Mexico, long grasses from a visit to Ayers Rock and stars from the tombs in Egypt are the sort of images captured and later translated into textile designs. A healthy dose of reality is also recorded, from the torrential rain and mud of Port Eliot Festival to the neighbouring Shard.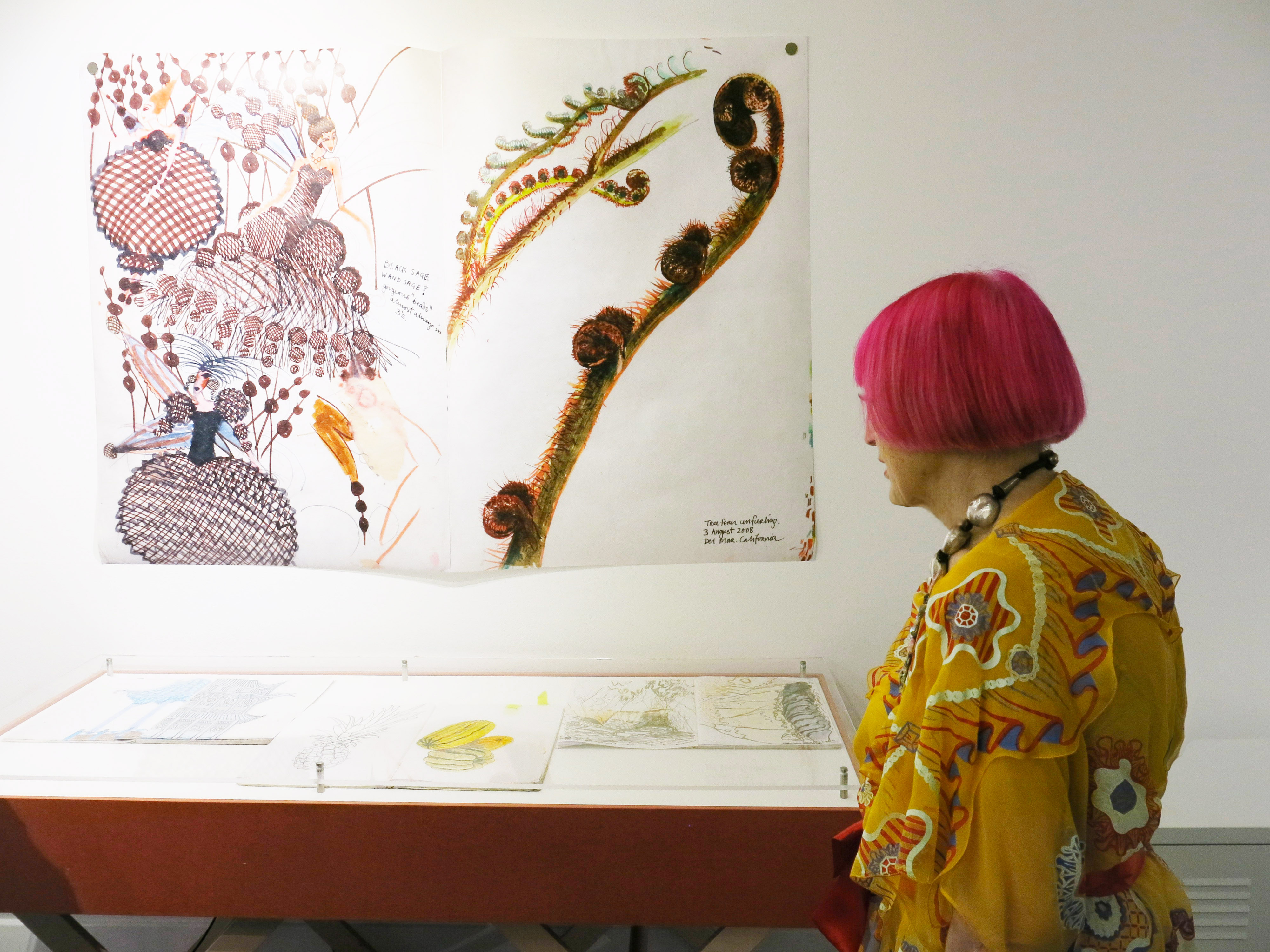 A charming rarity in the world of fashion, Rhodes remains earthy and unaffected by her achievements and fame. Her infectious energy and passion for sharing the visionary development of her ever-growing archive and ongoing craft are what really shine through. The museum she founded sparked a regeneration of Bermondsey as a creative hub, and its vibrant pink and orange architecture still shouts out from the epicentre; a focus for fashion and textiles education, cultural tourism and London's economy. Fabulous, yes – but also phenomenal.
Zandra Rhodes: 50 Years of Fabulous is at the Fashion and Textile Museum until 26thJanuary, 2020