March 7, 2019
Suffrage, Sustainability, Sewing: One Dress Tells Many Stories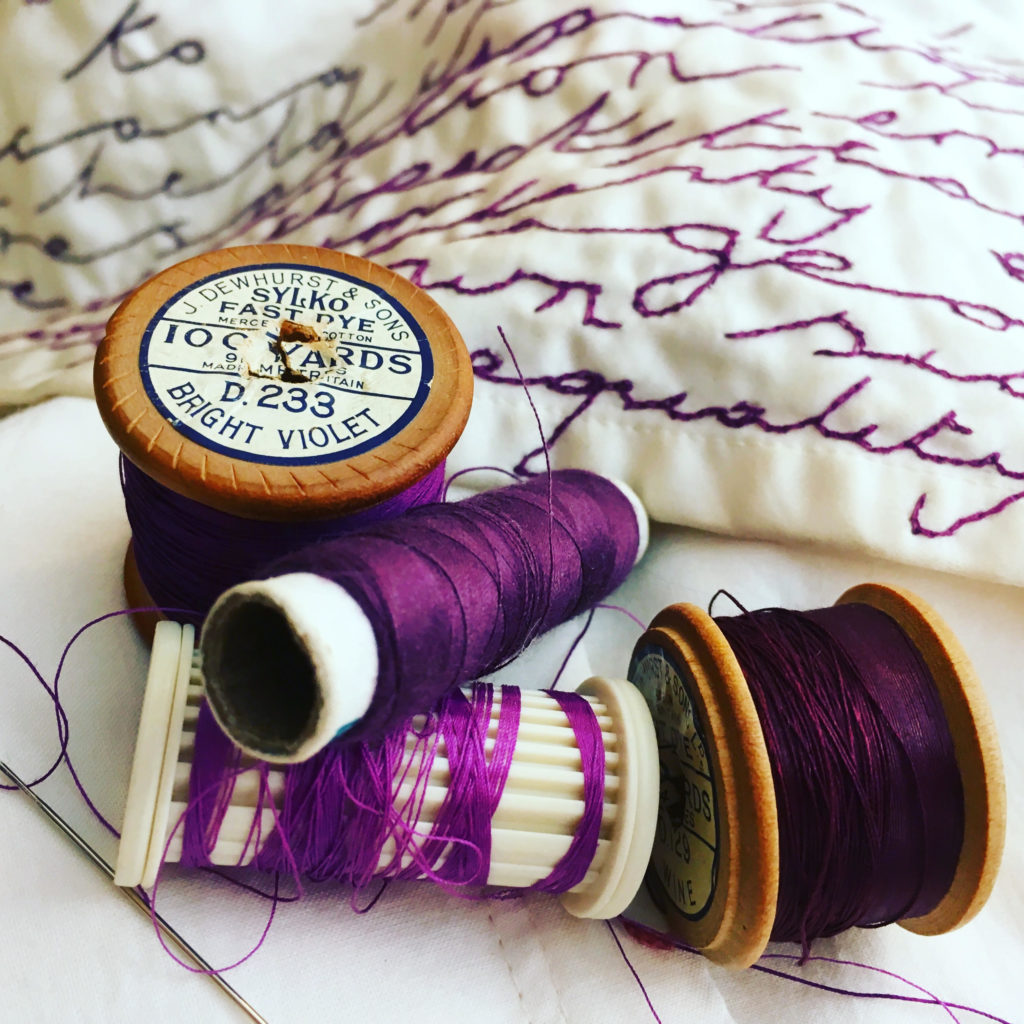 Our feature for International Women's Day stands for all we believe in at Visuology – slow fashion, sustainable design, social discourse, female entrepreneurial instinct and expert craftsmanship. Instead of creating collections for 2017 and 2018, Lucy Tammam, founder of Atelier Tammam, decided to make just one dress:
"I wanted to do a project that brought together my love for couture craftsmanship and the incredible women I have worked with, and wanted to work with, around the world. I wanted to connect consumers to creators, and give credit to all the artisans who help create a garment. I wanted it to be about women."
Inspired by the National Portrait Gallery's 1909 painting of Christabel Pankhurst by Ethel Wright, One Dress, funded by the Arts Council and two crowd-funding campaigns, celebrates the centenary of the first women to be able to vote in the UK, using traditional haute couture to convey a modern message of feminism. One Dress will eventually be embroidered with around two thousand words and phrases in reclaimed violet thread, and is currently being fabricated with the skills of female embroiderers, as well as fabrics from the atelier's sustainable supply chains and producers. Over six hundred words have already been stitched.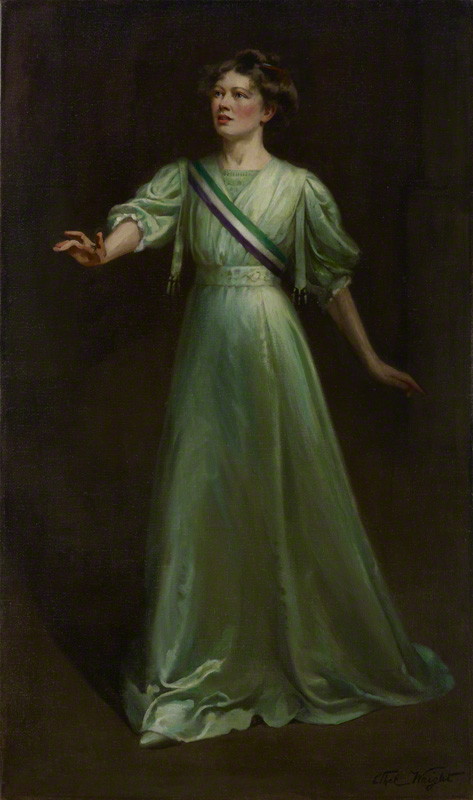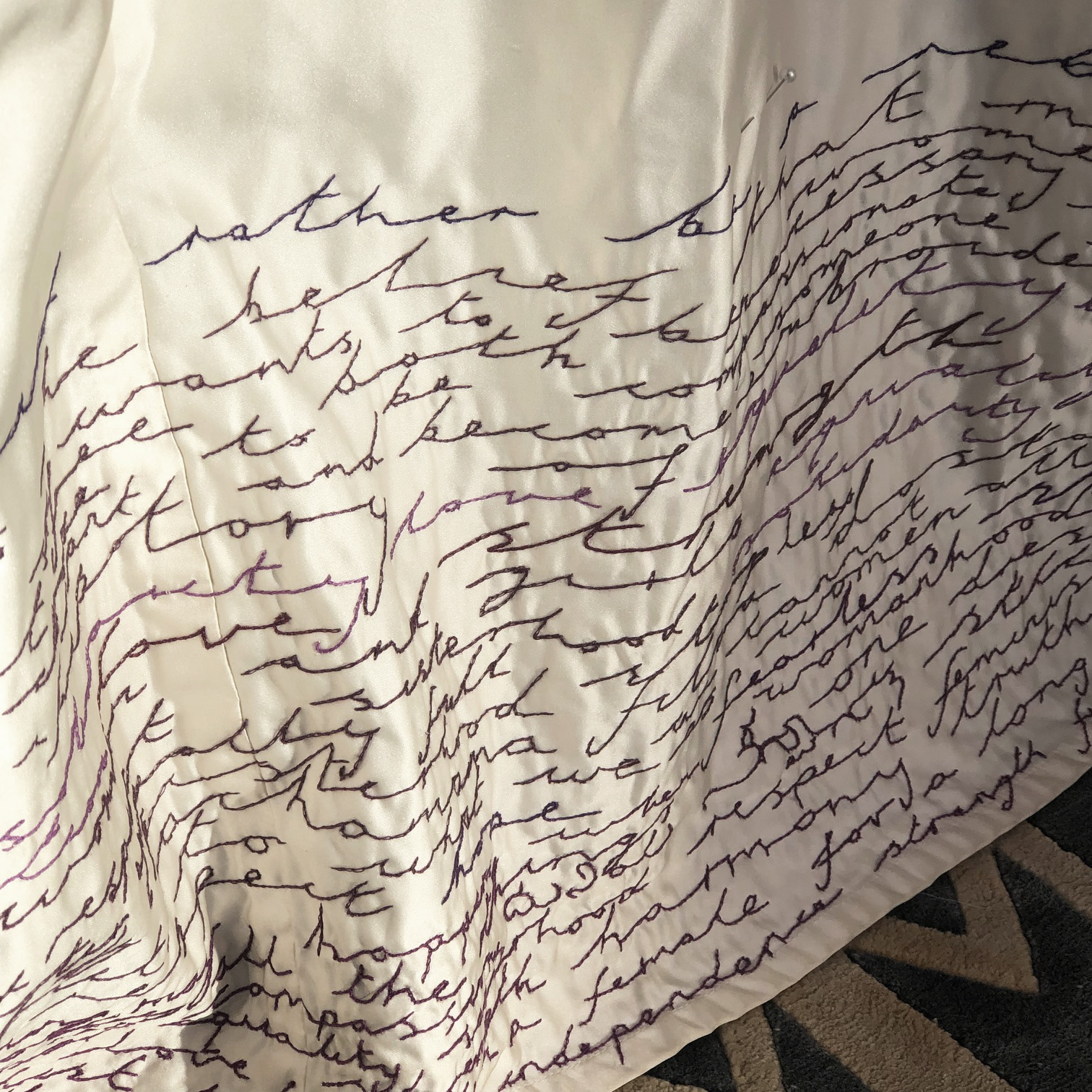 Single embroidered inscriptions on the dress focus on feminism and the positive representation of women, from the first six – 'equality', 'respect', 'emancipation', 'sisterhood', 'solidarity', and 'love', to the more obscure, and even sexual. Each word represents the meaning of feminism to the person who sponsored it. So far there are words in twelve different languages, as well as empowering quotes from former First Lady, Michelle Obama, author Chimamanda Ngozi Adichie, poet Maya Angelou, and suffragettes Emeline Pankhurst and Emily Wilding Davison.
From her bijou retail space and workshop in Bloomsbury, Lucy Tamman has set up what she claims to be London's only eco-haute couture fashion house and first ever ethical bridal gown line. She has previously worked on "lots of crazy projects" including a duck costume for Viva's charity anti-foie gras campaign, a catwalk showcase of her collection through St Pancras International station, and a wedding dress for Alicia Silverstone to wear on a film set in New York, with no fittings, "whilst she was breastfeeding and had a fluctuating bust size." Tamman says that One Dress is her favourite venture yet, because of the involvement of artisans, including women in Bangalore and Kenya. The act of empowering women through sewing is all the more symbolic since the creative and economic advantages of women's traditional association with textile crafts have been sidelined in the West during women's struggle for equality with men in terms of employment.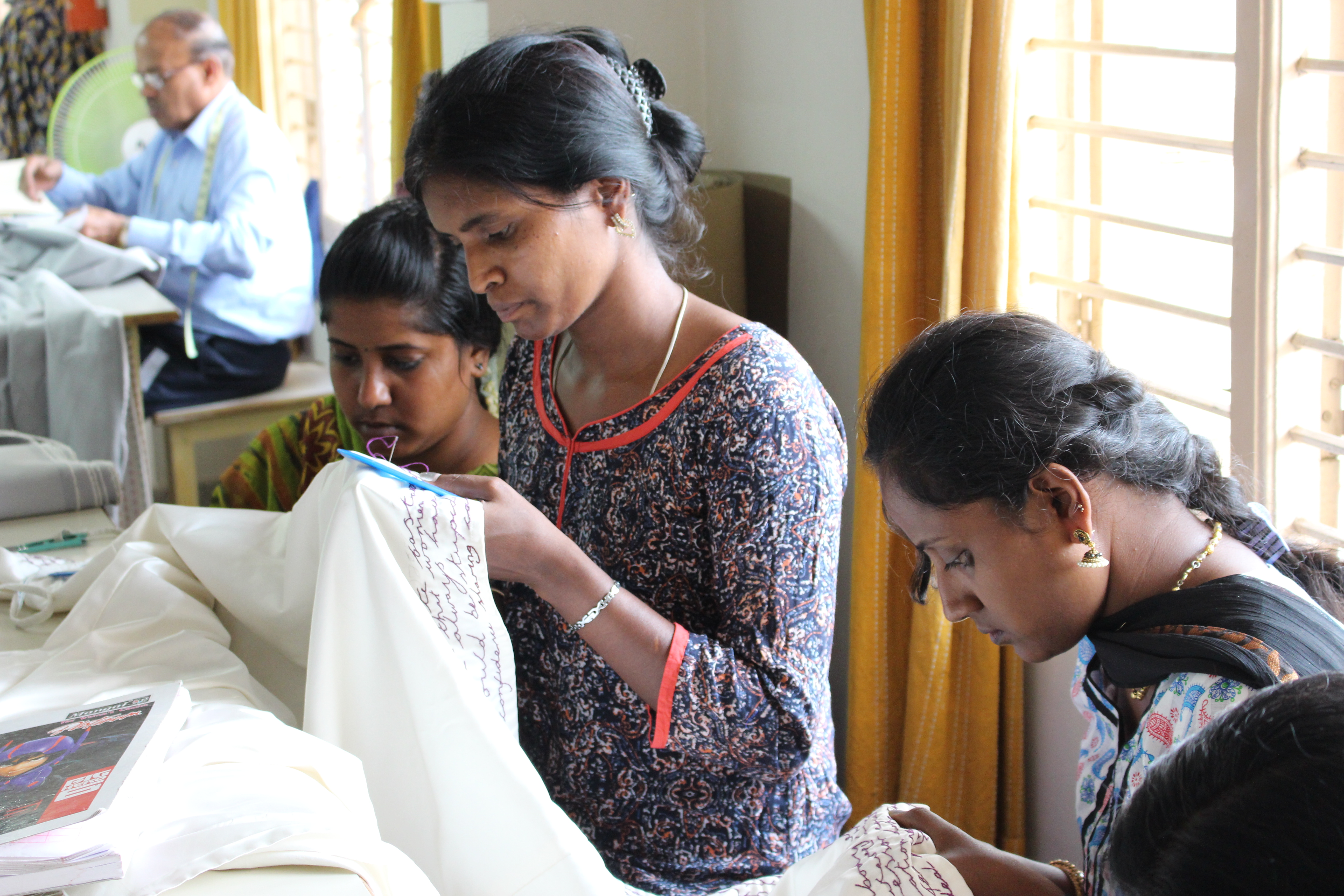 If you would like to find out more, Atelier Tammam is holding an open studio on March 8th to celebrate women,  #BalanceforBetter, and the role of sustainable fashion in supporting women around the world. Fairtrade cocktails will be on offer, along with a selection of feminist activist art from the FiLiArt100 showcase – and One Dress will be on display, with live embroidery by the 'petite mains' of Daisy Bailes.
The idea is that the finished dress will be worn by inspirational women and photographed by female photographers, after which the dress and the images will go on tour with Tammam, and will, she hopes, eventually be exhibited in a museum. You can also be a part of the story of suffrage, sustainability and sewing: To have your chosen word embroidered, or a gift certificate for a word to be sewn onto One Dress, please follow this link Tammam.co.uk/onedress