April 19, 2014
Cottage Crafts, Organic Materials and Inventive Recycling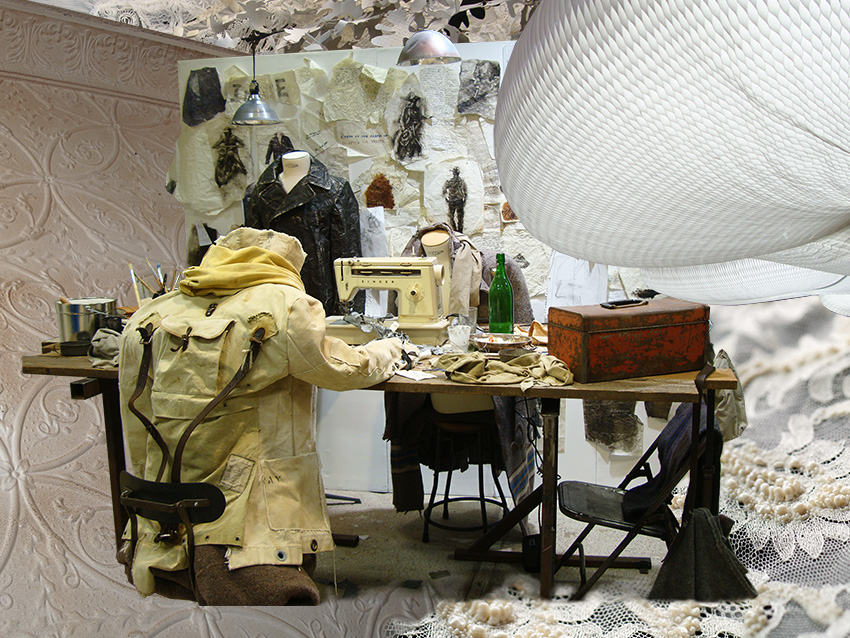 Craft workers and product designers are rapidly becoming the new elite of the art world. Master craftspeople, working with basic materials like wood, natural resin, wax, stone, metal, glass, leather, wool, paper or clay, create practical objects, as opposed to functionless art. Practicality and ease of manufacture is seen to outweigh the need for refined beauty. Some products may combine computer assisted 3D design technology with primitive handicraft techniques, for maximum effect. But the CAD 'revolution' may well be short-lived due to technical shortcomings, power shortages and lack of economic viability.
Individually handcrafted products lie at the root of a somewhat tarnished luxury goods industry, where even mass-manufactured goods are now marketed with the story of their making, and every brand considers itself to be unique. Prestigious brands and sponsors can afford to host events such as Crafted, a 'celebration of Britain's most exceptional craftmakers' – promoting expensively handcrafted 'luxury' home accessories, objets d'art and their talented designer-makers. But handmade items need not be the exclusive preserve of a wealthy few. The added value of craft is in seeing what could be created at home, or at least in a small workshop.
Simple, inexpensive raw materials are available in the form of naturally occurring, organic substances that can be sustainably recycled to create useful products. In future, new materials will be sourced to make use of hitherto underutilised natural resources – think river fish scales, human skin, crushed beetles, feathers, mud, stones and fallen leaves.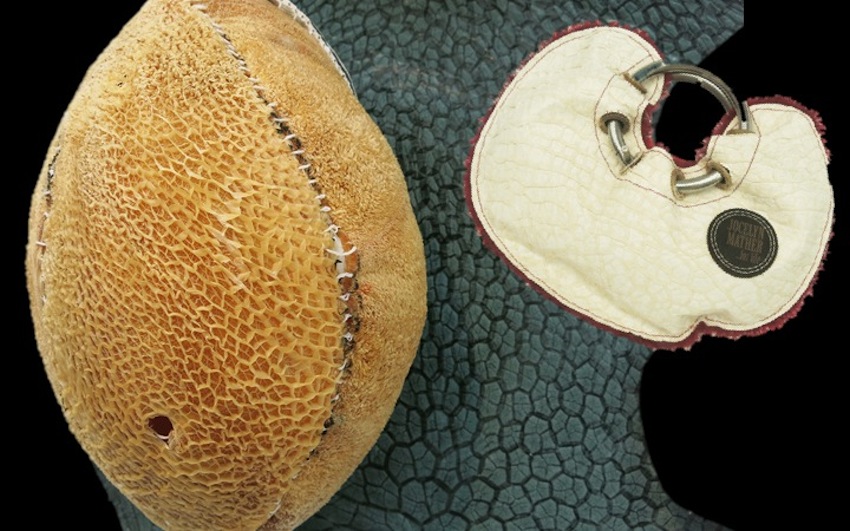 Throughout the centuries, man has made use of the by-products of his latest kill in different ways. Today's throwaway culture, combined with mass factory farming techniques, means that less desirable cuts of meat are rarely found in supermarkets. Jocelyn Mather, a recent graduate from Edinburgh University makes handbags and accessories from the stomach lining of highland cattle. 'BAGS for life' is a series of four clutch purses, which are all made with animal by-products. Each of Mather's bags is handmade from the "by-products of a cow." The leather comes from a highland cow and has been hand tanned with bark. The flattened ox horn has been steamed and pressed then laser cut. And the tripe, or reticulum (in this case from Thailand) has been hand tanned. The lining is in blood red Mulberry silk and some 'cattle jewellery' has been added as a finishing touch.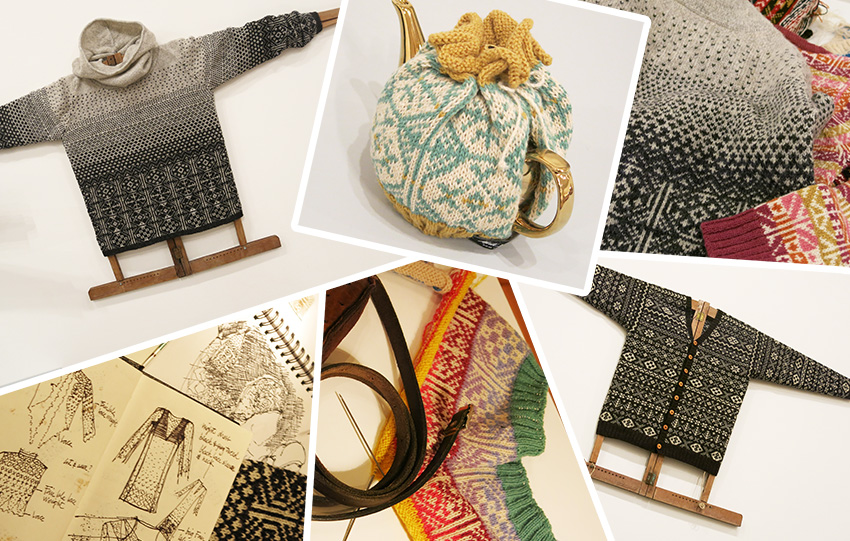 Mati Ventrillon is one of only three remaining knitters making garments on Scotland's Fair Isle. A French-Venezuelan architect, she learned the skills from older knitters on the island after moving from London with her family to a croft six years ago. Her designs are inspired by museum pieces of patterns from the early 19th and 20th century. Each garment is individually designed and handmade using 100% Shetland-spun wool, before being traditionally dried on a 'Woollie Horse' jumper board.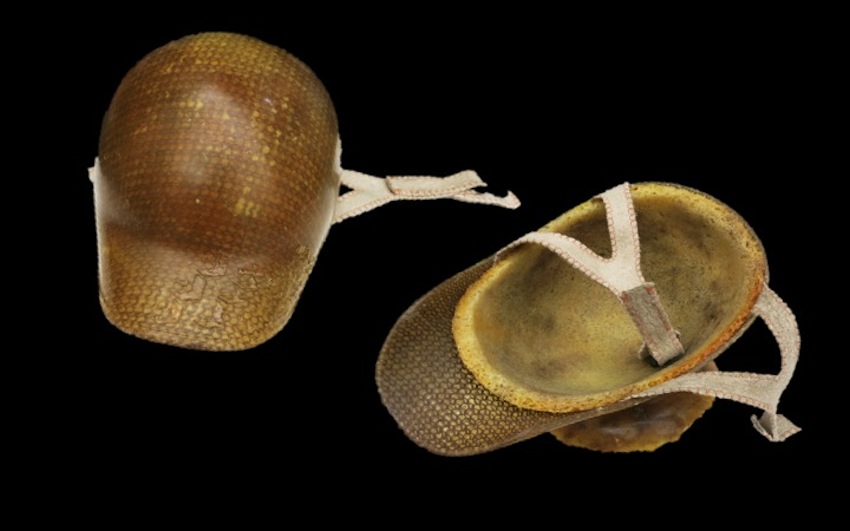 James Dart's bio resin hard hats have a texture rather like honeycomb. These sustainable helmets, made from linseed-oil based bio-resin and knitted flax fibre, are a technically proficient and environmentally friendly alternative to most modern cycling helmets (which are often made from a cocktail of plastics). Bio-resins are bio-based polymers from natural oils such as sunflower seed or linseed (flax). They are an ideal alternative to non-renewable resources, however they often struggle to match the desirable qualities of existing, less environmentally friendly plastics, an area that Dart has been researching. He has also explored the value and viability of locally grown plastic materials – a form of agri-manufacture.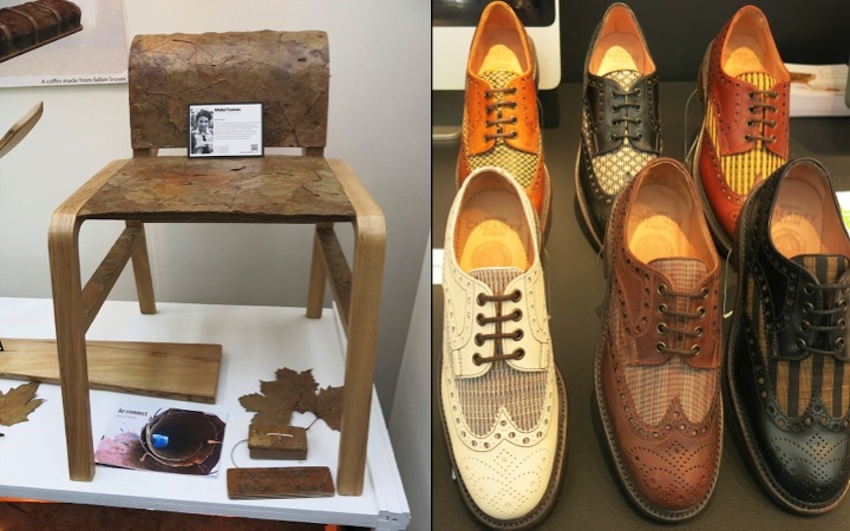 Meital Tzabari's Re:connect project is inspired by the cycle of the seasons. Using existing techniques and readily available natural resources, she has developed a new composite made of fallen leaves. The bendable sheets can be used to produce sustainable functional objects, without losing the organic appeal of the material. The leaf composite objects, mixed with laminated Lacewood, "embody the process of reconnecting the tree back with its fallen leaves."
Meantime, Emily Harrison has a new take on the classic British brogue with her label dutydesign.com. 65% of the world's leather is used for the manufacture of footwear, approximately 90% of which is tanned using chromium. The chromium tanning process is associated with high pollution, high water consumption and toxicity (it is known to have carcinogenic properties). Dutydesign uses traditional shoe making techniques (in association with shoemaker Joseph Cheaney + Sons), sustainable materials such as horsehair and a completely new tanning technology, which is free from chromium, aldehydes and organic solvents. The company has also used the same tanning process to create sustainable phone cases, folders and briefcases.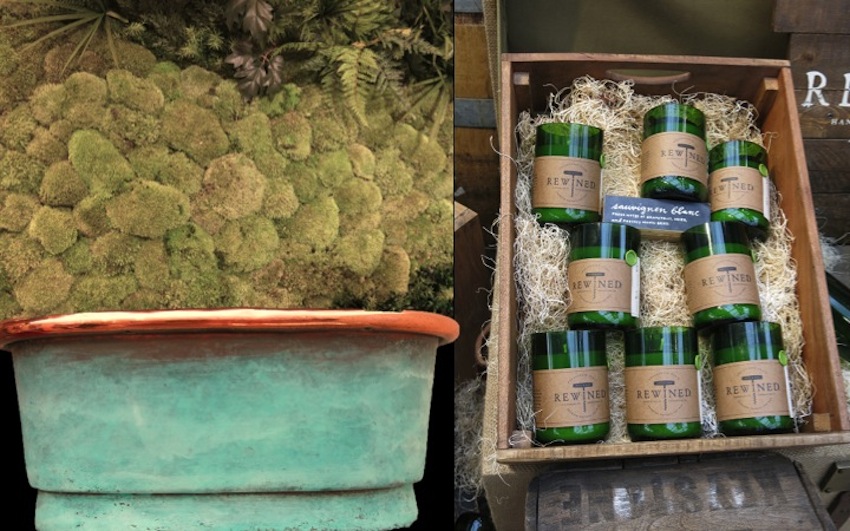 Other organic and re-used materials employed for practical design purposes include preserved and natural foliage walls by Bright Green, Rewined's recycled wine bottle candles and natural copper baths by William Holland.
(Photo montage, top, from Visuology Issue 1)