May 27, 2016
Biophilic Style at Clerkenwell Design Week 2016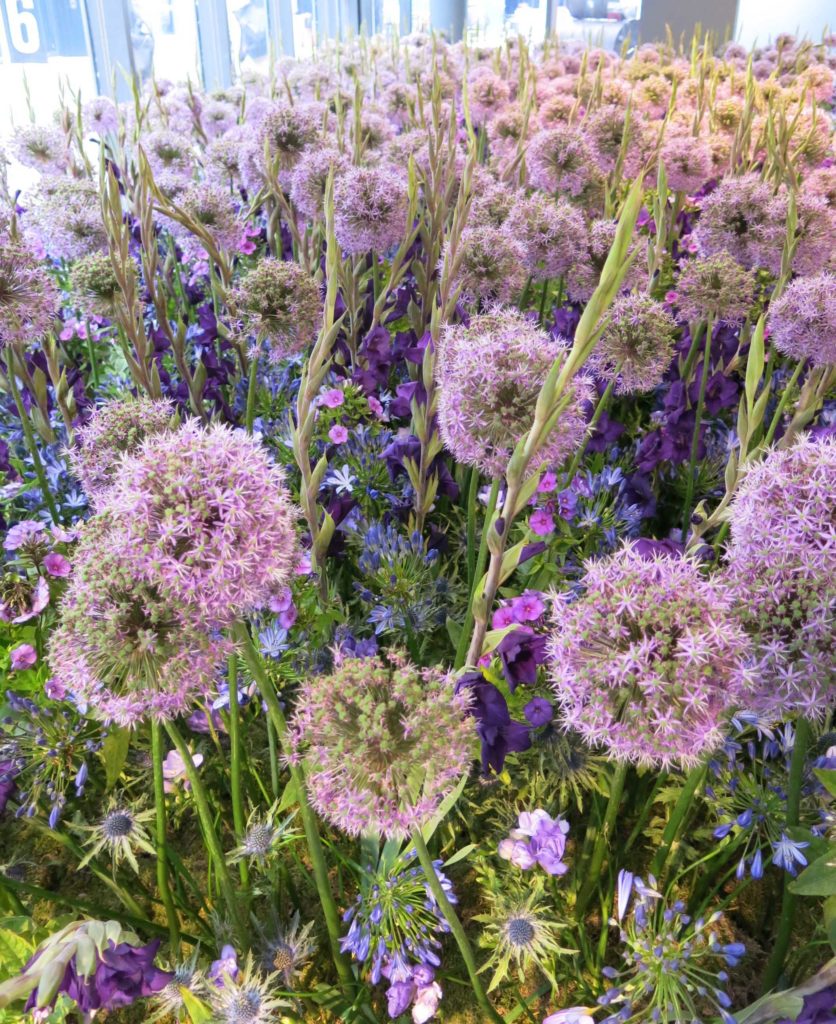 In Visuology Issue 2, we featured Outside In living, drawing attention to the growing desire to be at one with nature. Carpet tile maker, Interface, has researched the global impact of biophilic design in the workplace. Workers in office environments with natural elements, such as greenery and sunlight, report a 15% higher level of wellbeing, are 6% more productive and 15% more creative. Interface is working towards eliminating any negative impact its manufacturing processes have on the environment by 2020. The company's aim (Mission Zero®) is to become the world's first environmentally sustainable, and ultimately restorative, carpet manufacturer. Interface presented their results to date at Clerkenwell Design Week and introduced their latest collection – World Woven by David Oakey – made from 100% recycled nylon, and inspired by the simplicity and beauty of traditional handcrafted materials.
We were impressed by the simple elegance of upcycled rubber tyres, used as planters, to set off chairs from Moroso's M'Afrique collection for Icon's House of Culture in the Old Sessions House at last year's Clerkenwell Design Week. Moroso employed Senegalese weavers to make the chairs using fishing net fibre. Gardens like this are fairly common in Senegal – this is how women grow the fruit and vegetables they sell at market. The novel use of recycled urban waste is also a great way to green-up a sitting room, or conservatory, at home.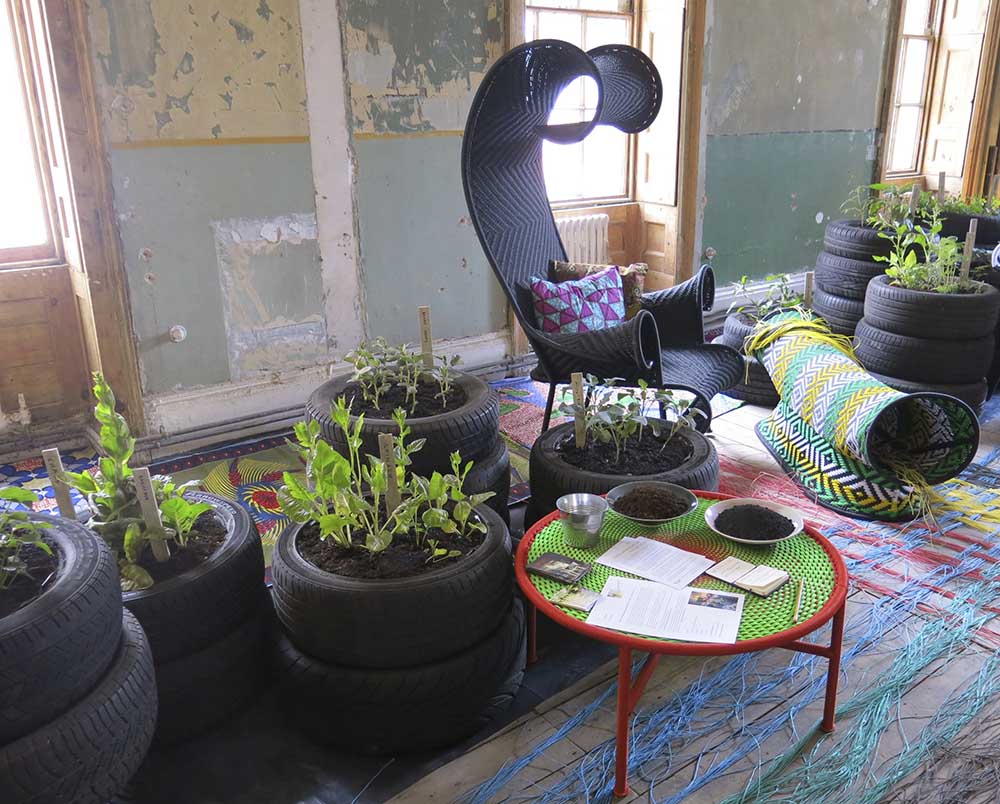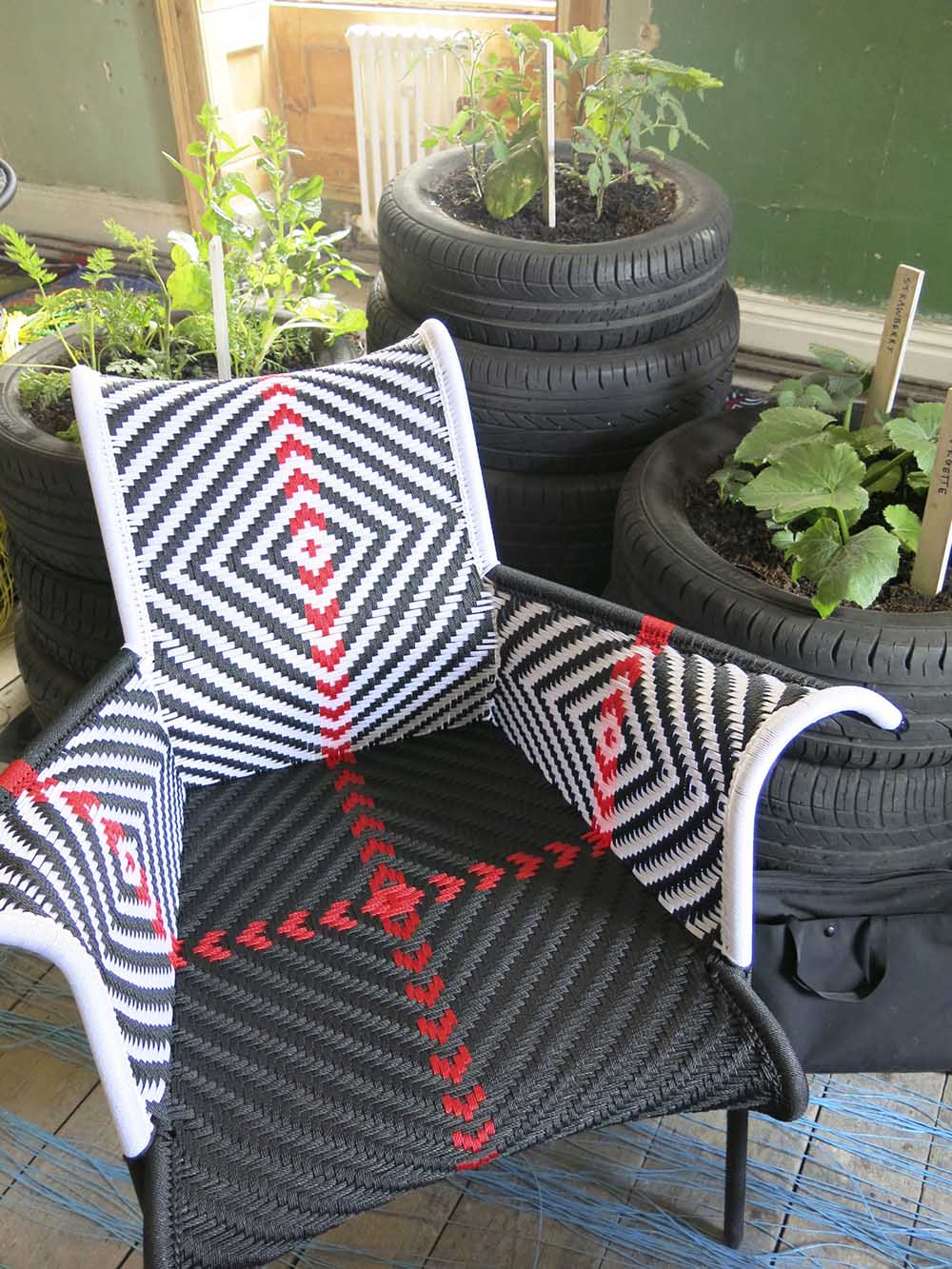 This year the CDW venues were jiggled around a bit, resulting in some intriguing new additions: Fabric nightclub became the House of Culture, and the newly spruced up Bourne and Hollingsworth Buildings – where shabby-chic interiors are enlivened by arrangements of freshly cut and planted garden flowers – was turned into a plush press office.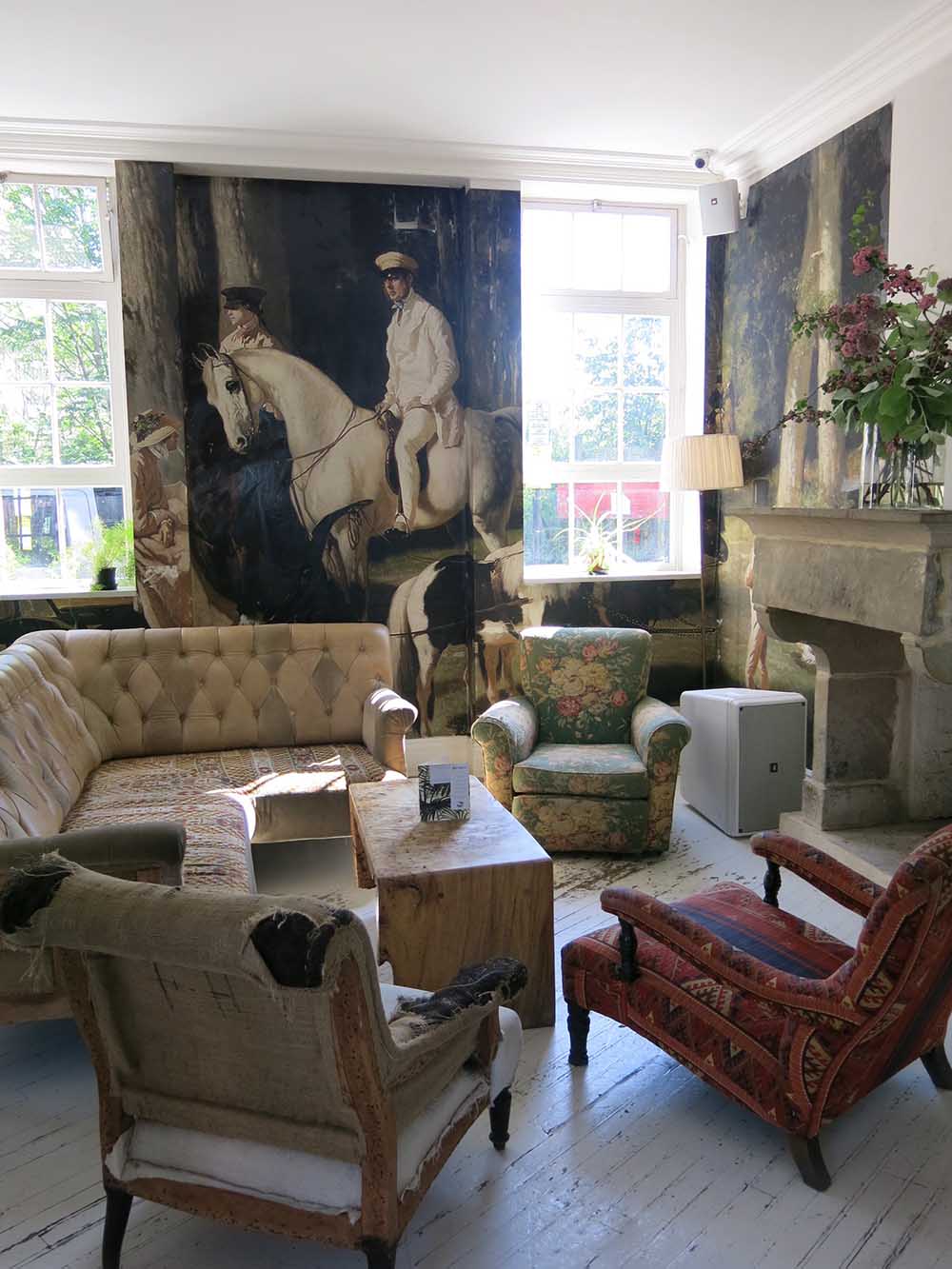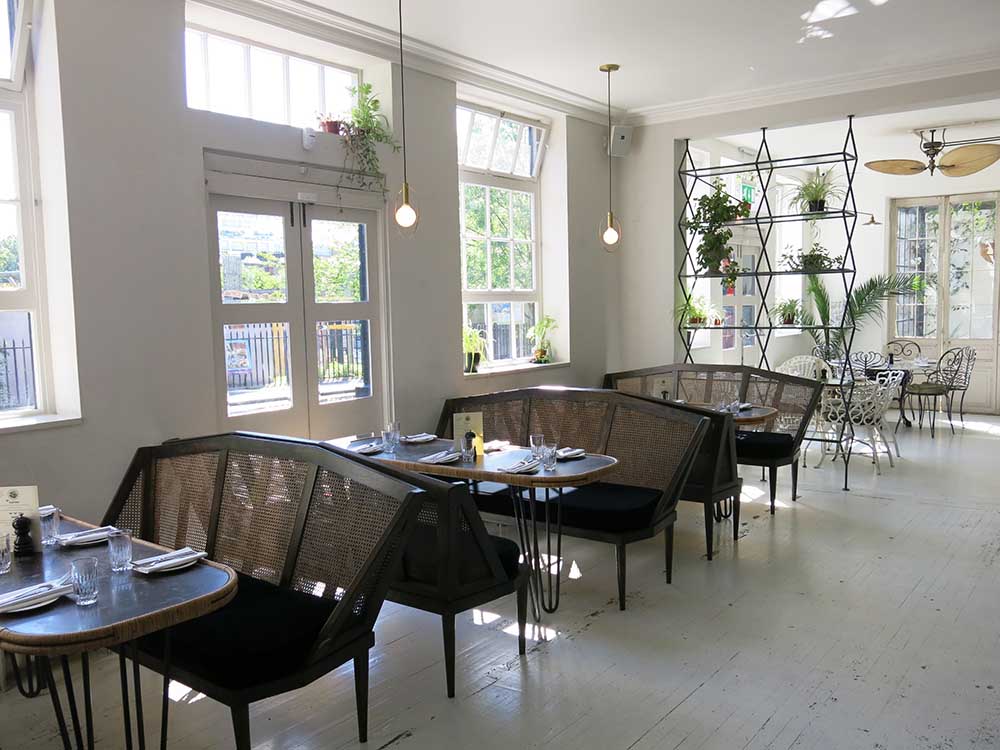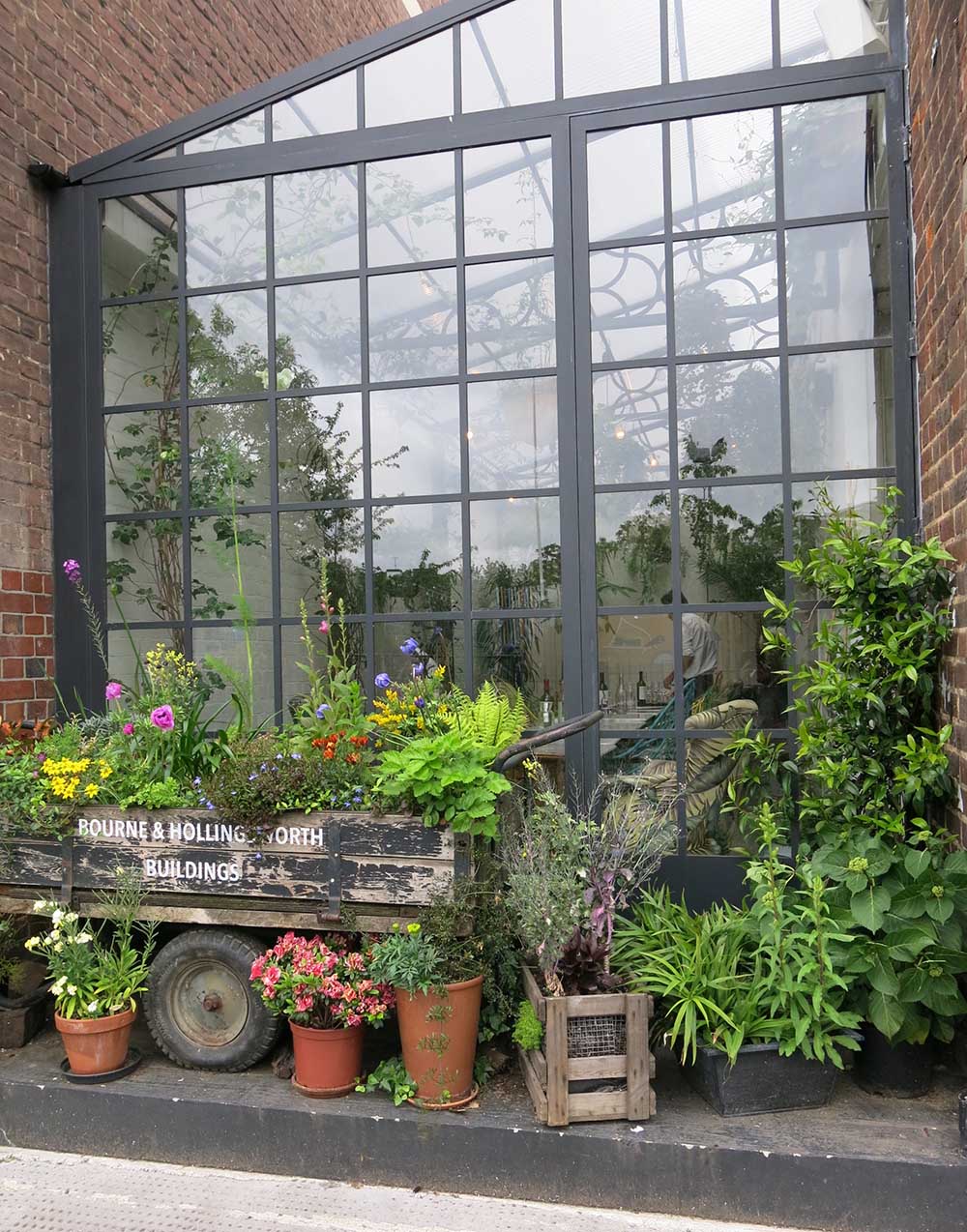 One of the great advantages of biophilic design is its ability to indulge the senses. Some of the olfactory experiences at this year's Clerkenwell are the ones we will remember most. Like walking through the HakFolly at St John's Gate and breathing in the aroma of newly cut planks of wood. And inhaling the scent of damp garden moss at the Greene & Co sponsored Fringe event in Brewhouse Yard, where Studio Egret West was transformed into a Purple Patch with Alliums, Agapanthas, Gladioli, Phlox and Thistle. "An installation of purple, seasonal flowers in the studio plays with notions of good luck, creativity and fortuitous growth." Visitors were invited to "take a conscious pause… and be mindful that involvement in a period of change in a city comes with great responsibility."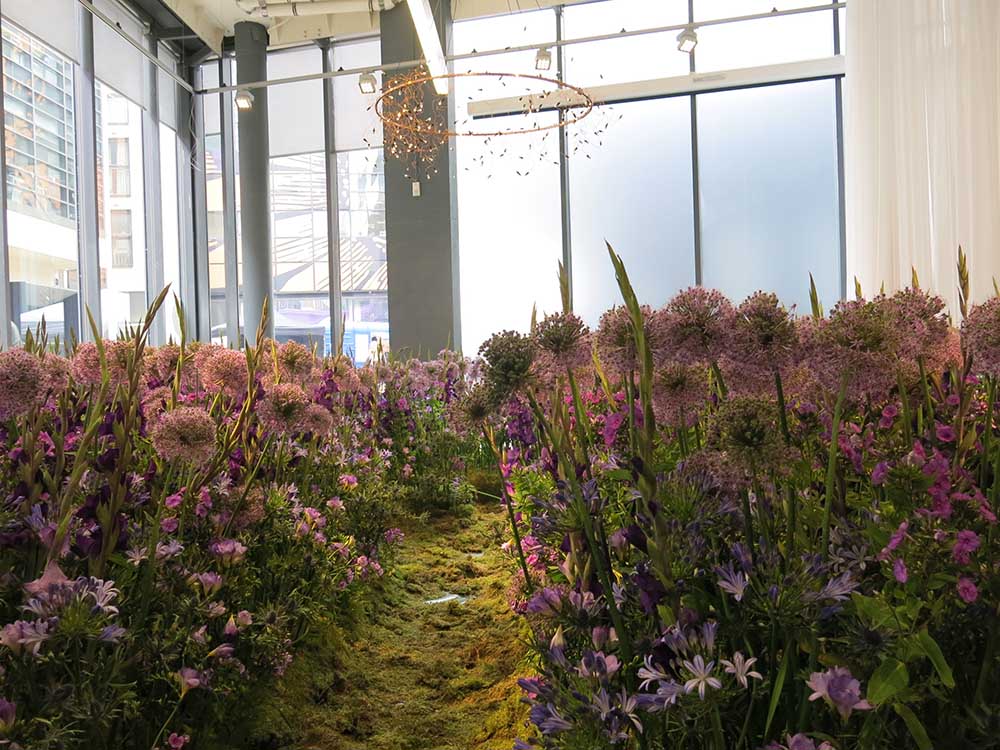 It can be hard to keep happy and healthy when polluted air is all around us and the pace of city life is so frenetic. As well as having aesthetic appeal, flowers bring us closer to nature, and probably help us to slow down a bit too. One of the most charming design and business ideas at CDW this year was Bloomon's flower delivery service. Sign up online to send yourself, or someone you love, regular bouquets of rustic flowers for a reasonable price (well, you may have to forgo the Sky subscription) – and you can even buy the beautifully uncomplicated vases too. Just think of all the bees that will have feasted on the nectar and pollen from the flowers in your arrangement. Biophilic design is certainly creating a buzz. And, if you have the luxuries of space and time, you could always create a therapeutic flower garden of your own.