January 1, 2016
Threads, Fringes and Handcrafted Fashion: In Conversation with Kelsey Hutton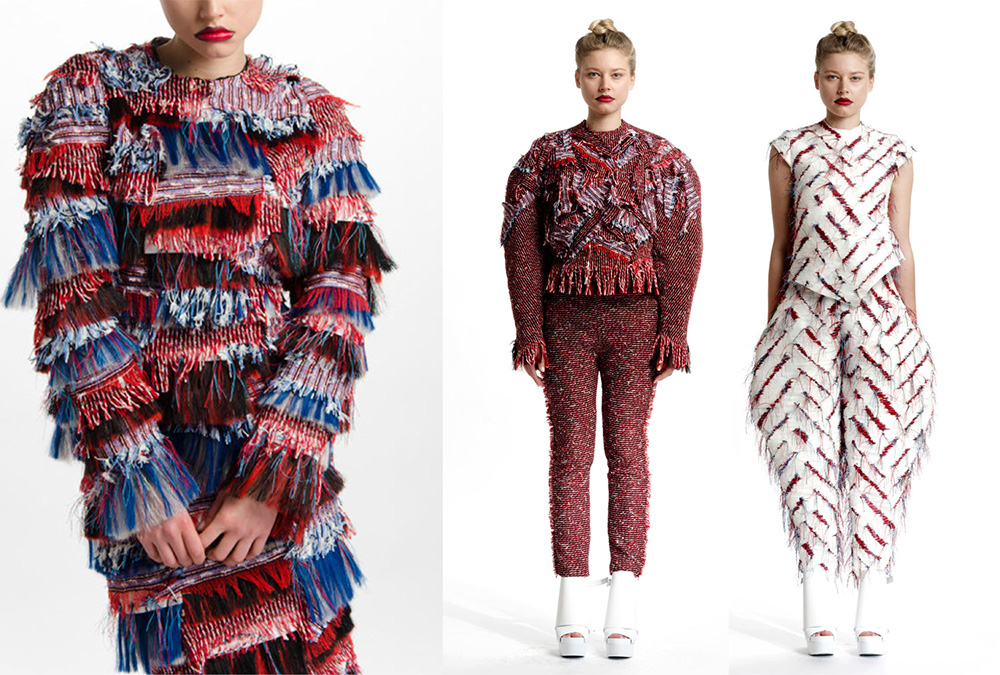 From passementerie to fashion adornments so extreme that the decoration becomes the fabric itself. Just when you thought we were over fringing, this is something you'll be seeing even more of in the spring – with fringing becoming an integral part of the fabric. The frayed fabric look has been seen on the catwalks of Chanel, Balmain, Ashish and others, but now the hanging threads themselves take centre stage.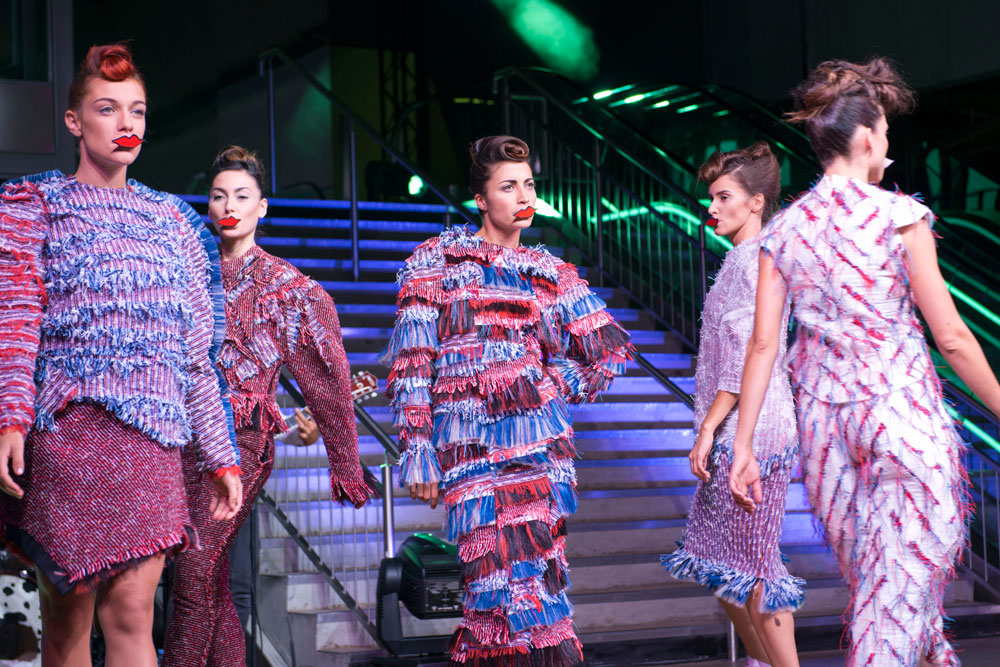 Promising young designer Kelsey Hutton honed the look for her final collection at Parsons in Paris. Visuology interviewed her to find about more about her inspiration and production techniques.
Q. Kelsey, why did you choose Parsons school in Paris and not New York?
A. When I was originally looking at schools I did look at Parsons New York, which is how I found Parsons Paris. In all honesty, I chose Parsons Paris because I was taking my French 'A' level at the time and I wanted to be in a beautiful city full of fashion inspiration, culture and beautiful architecture – plus I could practice my French. Parsons is a great school with teachers who are very present in the fashion world and so the mixture of Parsons and Paris was a perfect combination for me.
Q. Do you think being in Paris has given you a different outlook/style than if you had studied in London?
A. I have always had quite a distinct personality in terms of my style, but being in Paris helped me to really define the elements I wanted to focus on and strengthen them. Even though I've studied in Paris, I've still kept my British sense of humour – and it can be seen in my work, for example the stick-on lips I gave the models on the catwalk – and my quirky work with textiles. I think having a British style influence helped me stand out and be noticed in Paris because I was bringing something a little different to the table.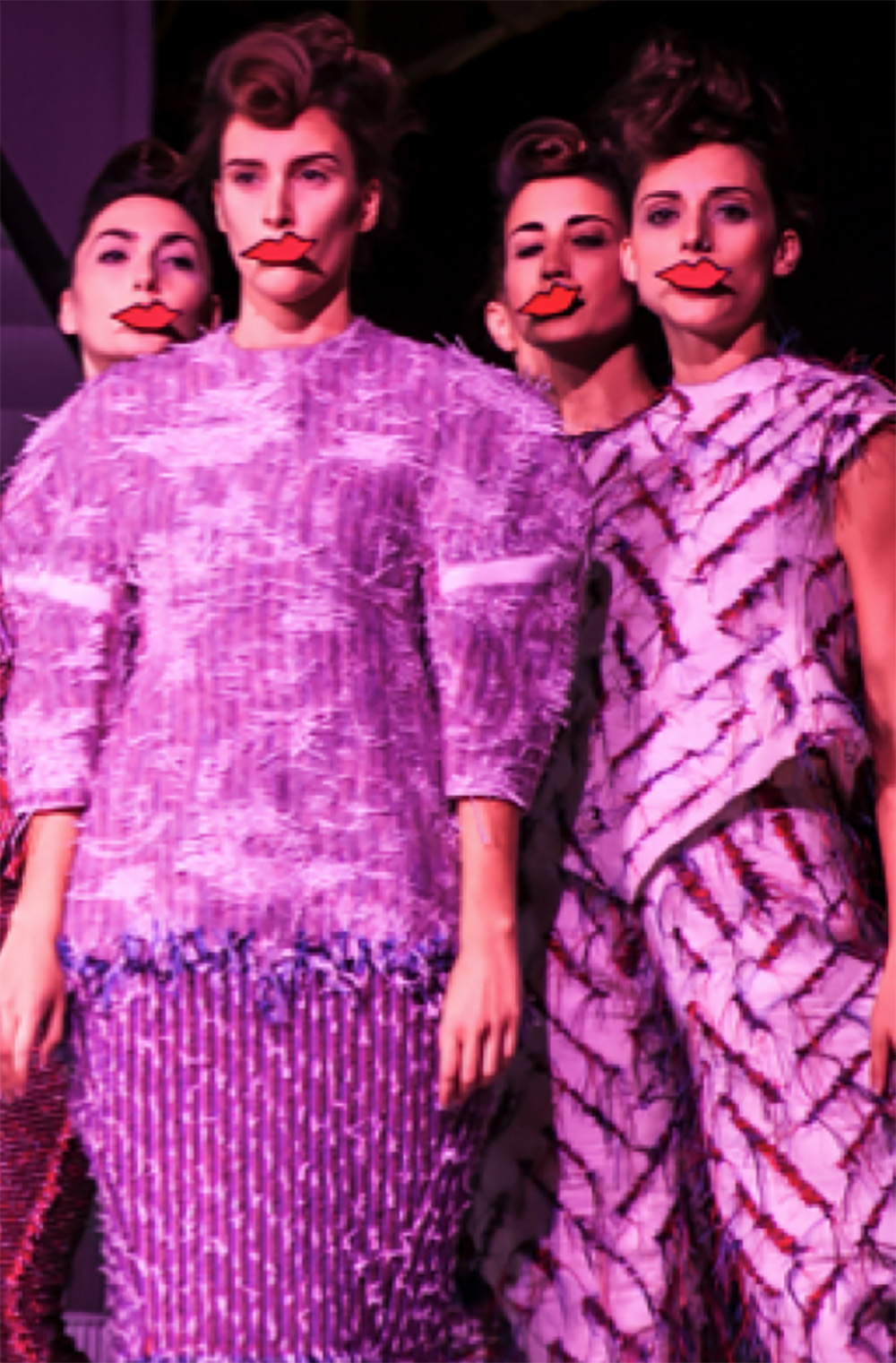 Q. Can you tell us a bit about the inspiration behind this collection?
A. I consider myself to be an 'eclectic' contemporary womenswear designer and much of my inspiration comes from self-produced textile manipulations derived from my original artwork. With this collection, I also wanted to convey a contrast of opposites – fitted versus oversized, asymmetry versus symmetry, patterned versus solid colour, black and white with accents of colour – and to represent two halves that make a whole.
Q. How did you create the fringing effect on your garments?
A. From the start of this collection I played and experimented with fabrics and the manipulations I could create. The fringing began with a deconstructing of the woven fabrics for the collection. From there, I aimed to create oversized fringing. At first, I looked at raffia, and creating a fringing from layers of raffia in the collection colours. Although the raffia structure worked, it lacked the level of sophistication I wanted. This is when I looked into using human and horsehair fringing. To create the hair fringing, I used layers of double sided tape to build up four layers of the hair, two layers of each colour. Then with the strips of hair, I would zigzag stitch through the double sided tape for extra strength, then hand stitch the bonded strips into my garments.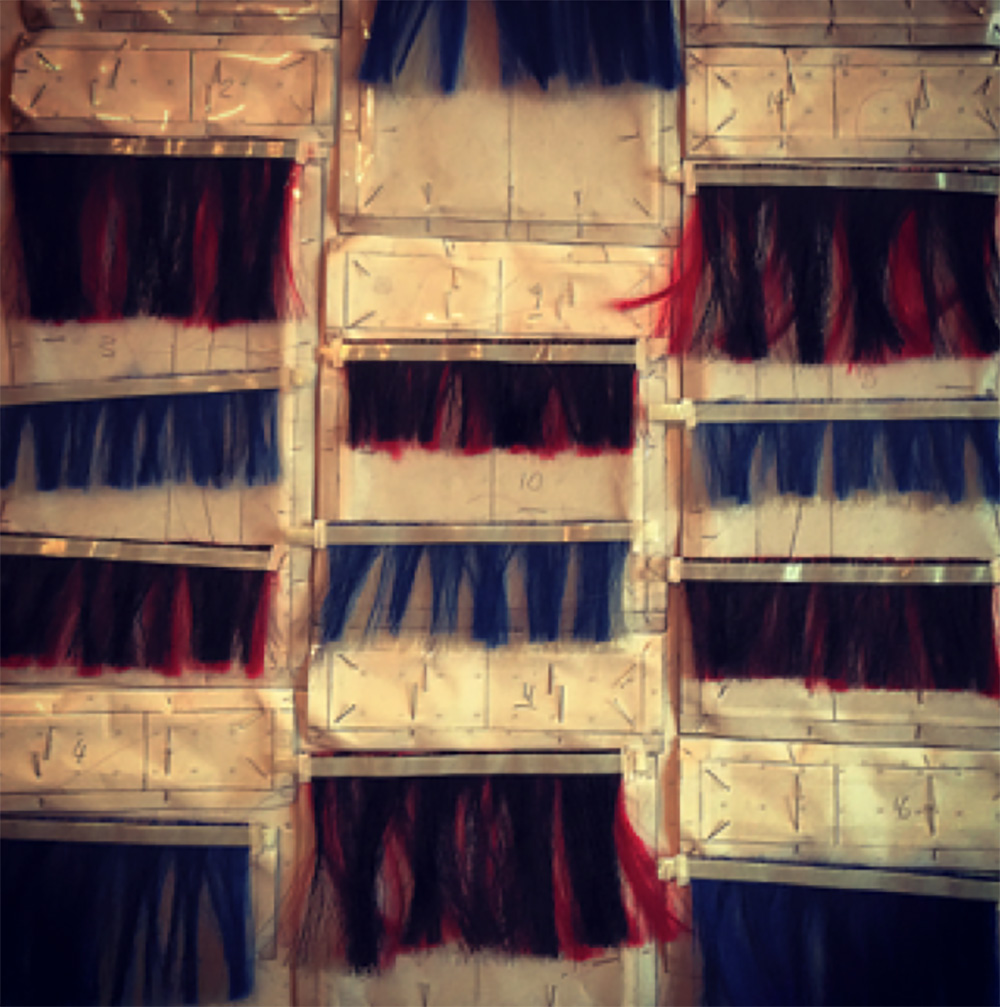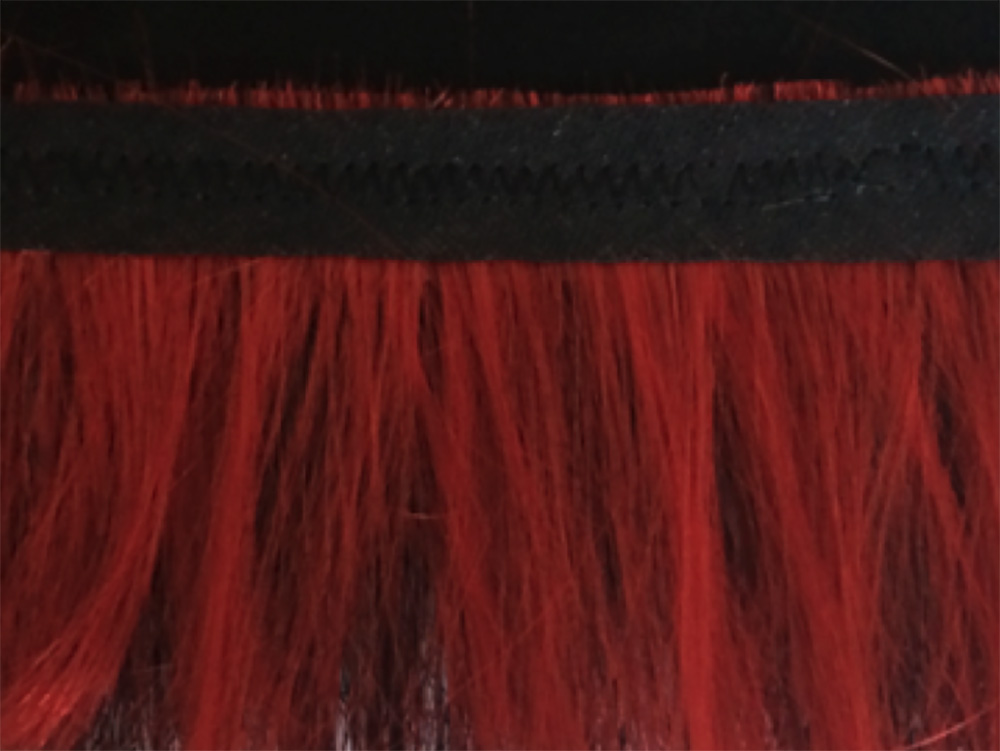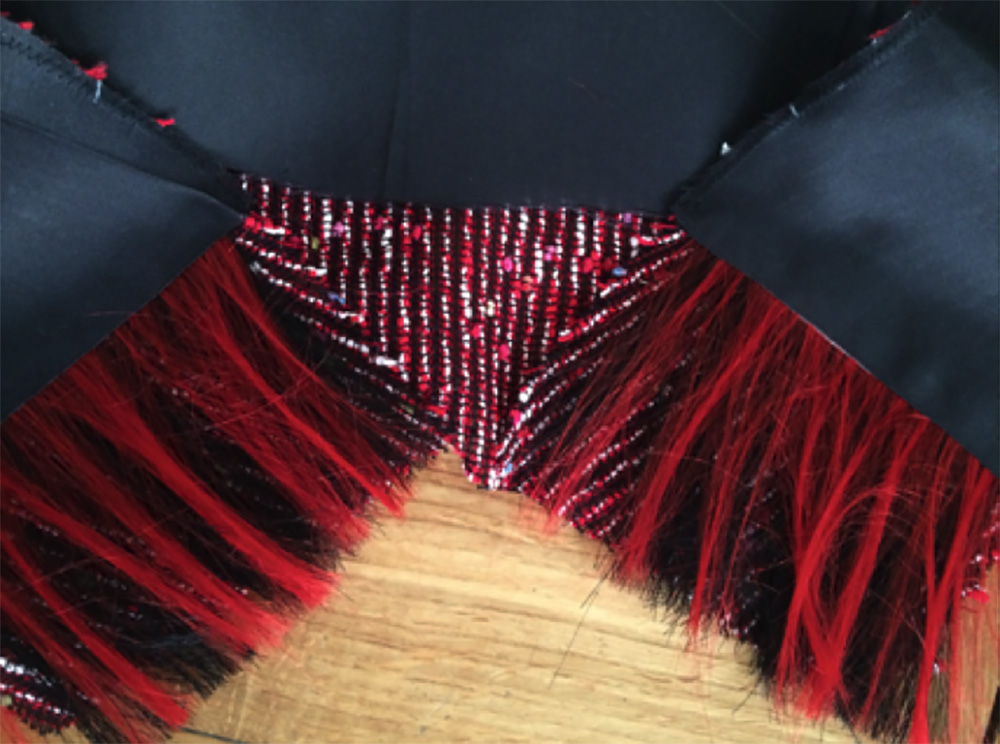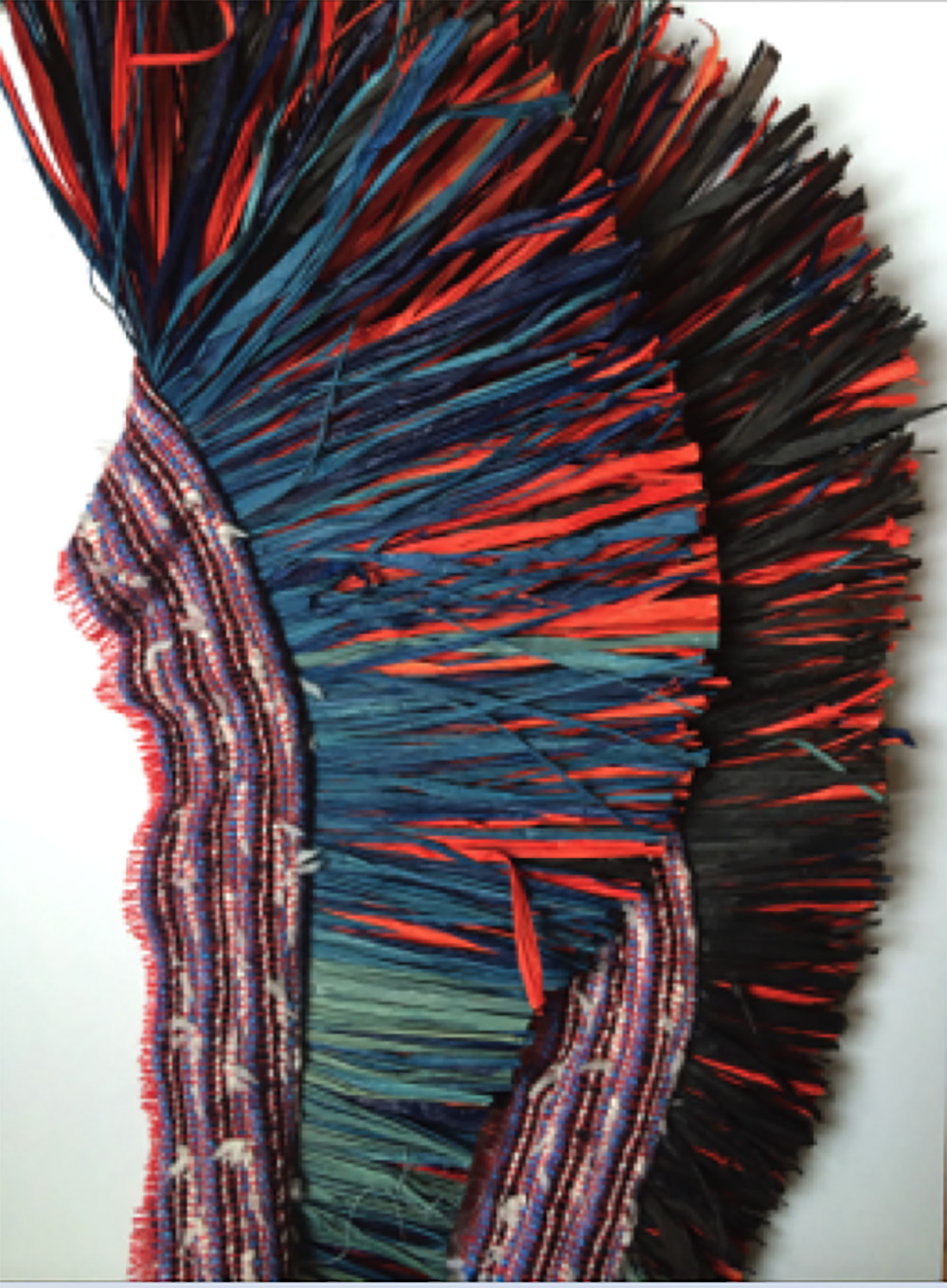 (NB. We flagged up the trend for hairy adornments for fashion and home accessories in a 2012 Curious Trends post).
Q. Did you also design the shoes yourself?
A. Yes I designed the shoes as an extension of the collection. In the end I made leather shoe covers that can be attached over any shoe around the ankle to complement each look. The shoe covers have earned a lot of interest especially from buyers. I think this is probably because they are great way to accessorise and even give your old shoes a new lease of life, and they are an easy way to add spark to a plain outfit.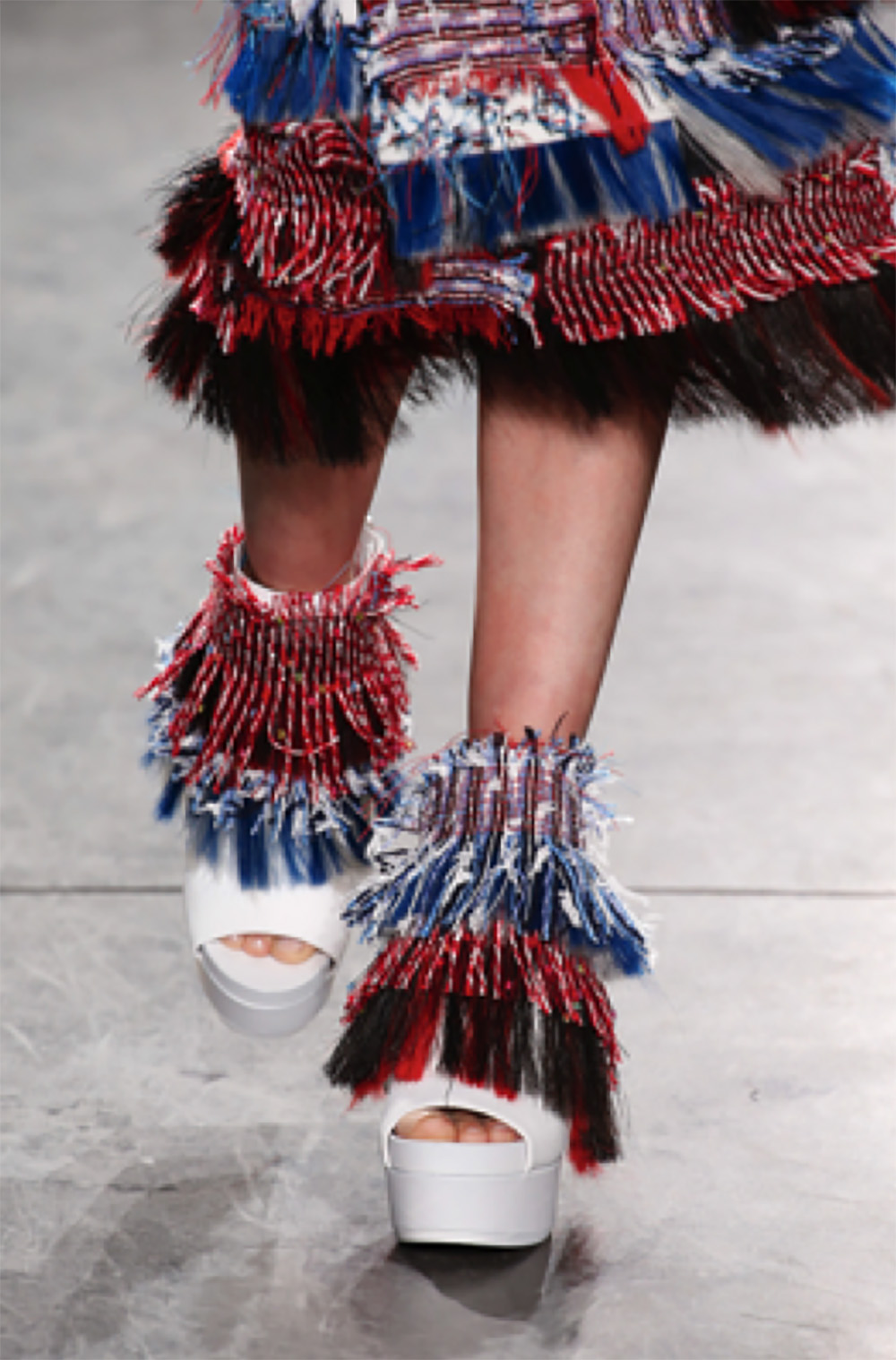 Q. What are your plans for the future with your fashion label?
A. I am starting a part time internship with Jane Bowler to gain real hands on experience in the fashion industry, whilst still developing my own label and Spring/Summer 16 collection. My recent collection is stocked at Showroom Shoreditch and soon there will be an online store with international shipping.
Q. Which fashion designers do you most admire, or would you like to collaborate with?
A. My childhood fashion inspiration has always been Vivienne Westwood – I watched my parents dress up in her clothes when I was growing up. Her work was my first real glimpse at the fashion world. More recently, I have been obsessed with Anrealage, a Japanese brand who's A/W 2015 'Light' collection focuses on new textiles and oversized shapes. I also like Sorapol's amazing avant-garde embroidered/beaded garments, created in its East London atelier. I am always inspired by designers who balance colour, pattern, textures and shapes, whilst still being innovative.