January 15, 2015
From Dandies to Dames: London Men's Fashion Week A/W 2015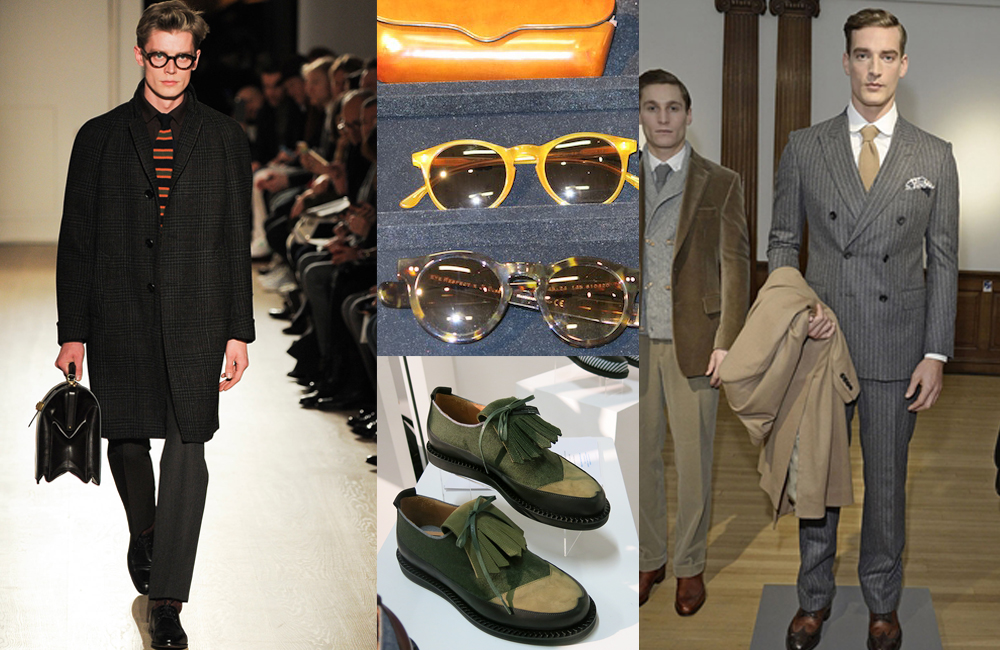 Menswear is serious business. The UK market grew by 18% between 2008 and 2013, with £12.9 billion of sales (£10.7 billion of which were online) in 2013, against womenswear sales of £24.9 million. Mintel predicts menswear sales will reach £19 billion by 1919, though womenswear sales should be well over £30 billion by then. Which key items will men spend their money on this year? Styles for A/W 2015 range from classic suiting through to less serious skirts and avant-garde tunics (do some of the designers harbour a secret desire to dress women rather than men?) We report on common themes and details at London Collections: Men – that, thanks to digital technology, are probably 'trending' worldwide already.
Thankfully, traditional British tailoring never goes out of fashion – as evidenced in collections from Chester Barrie, the tailors of Savile Row and St James's and Ede and Ravenscroft (above right) – London's oldest tailor and robe maker (established in 1689). Not forgetting Turnbull and Asser's super-suave and sophisticated silk smoking jackets and dressing gowns. Many of the outfits were complemented by Hamish Bowles lookalikes wearing geeky spectacles (teamed up with granny shawls at Burberry Prorsum). Eye Respect's geeky-cool eyewear includes a LDNR (Londoner) range, where each pair of glasses comes with a fine quality handcrafted leather case (above top).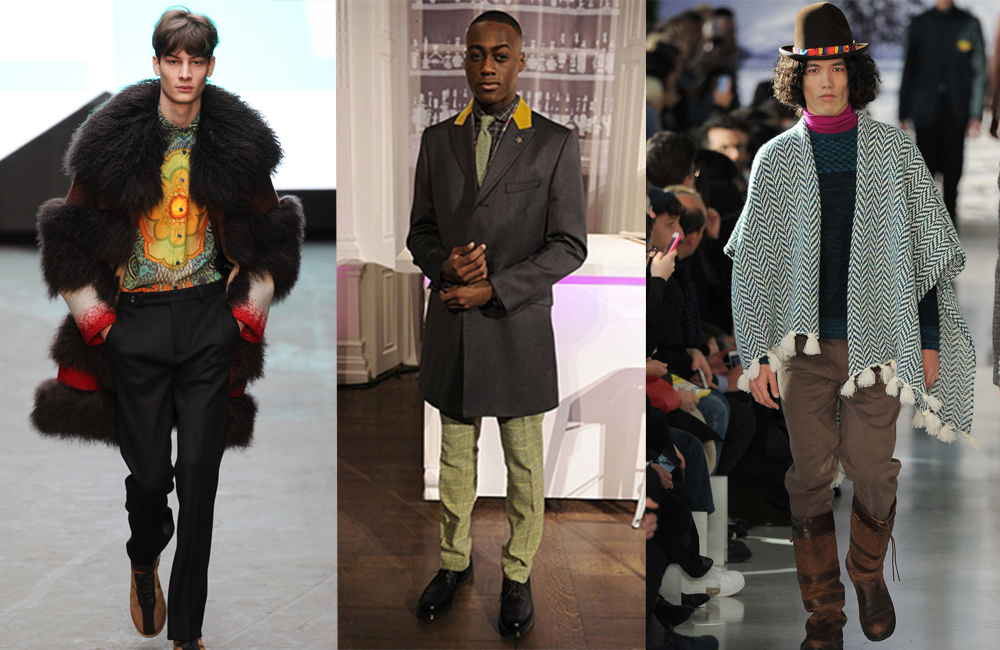 Hardy Amies, Gieves and Hawkes, Dunhill (more geeky specs – top left) and others went for classic with a contemporary-retro twist. Thomas Pink (above centre) surprised with a youthfully hipsterish take on British style. Directional footwear included La Portegna's handmade (in Spain) folding travel slippers and Caterina Belluardo's Flaneur inspired shoes (above top), created in collaboration with Cerruti.
Whereas audience members at most of the shows stuck to Normcore black and/or jeans, the catwalks were awash with colour and creativity. Such was the prevalence of playful appliqué, it appeared as though someone had visited in the night and sewn patches or tape on almost every garment – as at Kit Neale, Christopher Shannon – and KTZ (below), where Marjan Pejoski wowed with an extraordinary monochrome mash-up of history, photography, curiosities and Brit-cum-Inuit style, apparently inspired by the film A Clockwork Orange.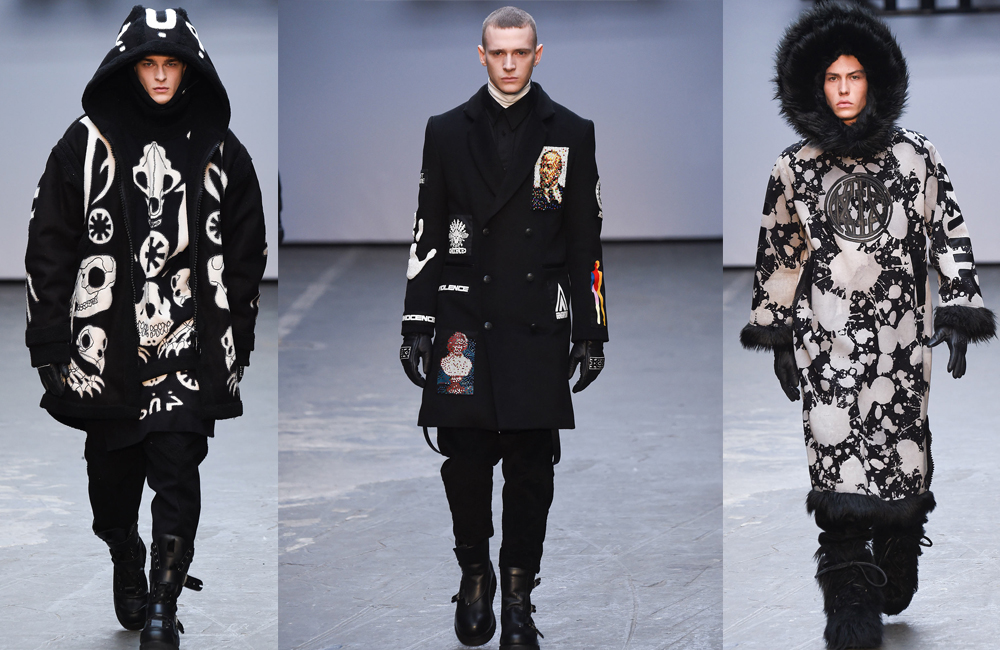 Animals featured on some of the patches at Vinti Andrews, where this season whales have taken over from sharks. Christopher Raeburn is now doing sharks. And Alan Taylor's '90s skateboarding inspired suits and separates are patched with vinyl prints, which are photographs of his bedroom (below right). There were slogans aplenty as well, mainly taped onto garments, as at Alexander McQueen (below centre), and almost everywhere else. And letters too, at Kit Neale (below left). including some of Andrew Logan's mirrored brooches. Buyers beware: appliqué is a technique that can easily be replicated at home – what's more it's great for using up old scraps of fabric, which is very eco-friendly.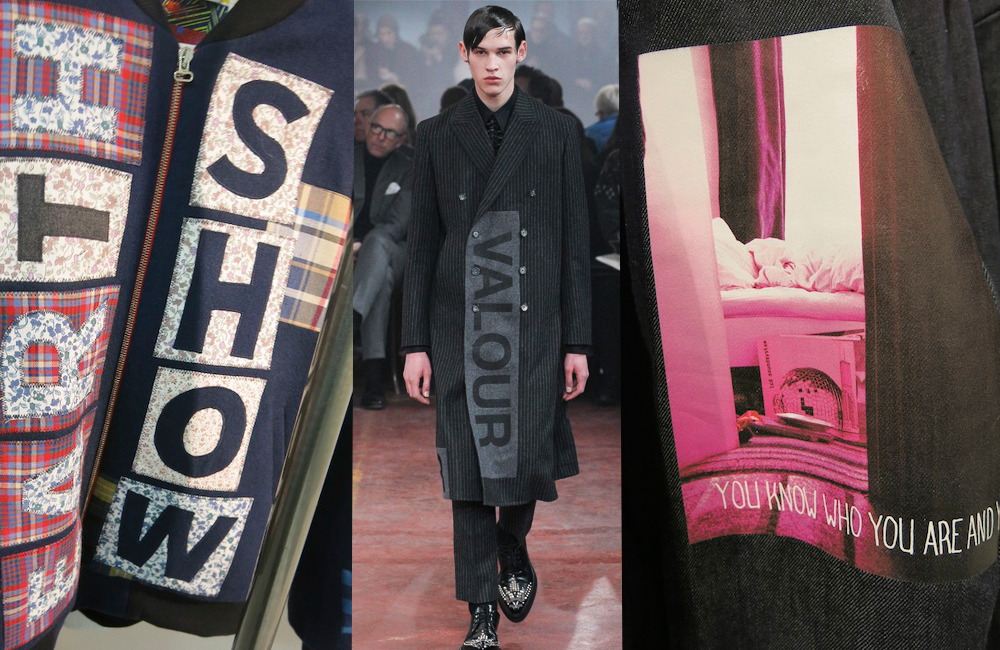 Retro influences appeared to be mainly from the 1950s and '60s, but other decades got a look in too. Topman offered mod meets motor-mechanic meets the Bay City Rollers, whereas it was mod meets cowboy at Zander Zhou and Op art at Tom Ford. There is going to be a lot of fluff around too, in the form of faux fur and bobbly wool – like the Mongolian lamb jackets and coats at Topman (pictured above), Kit Neale's furry jumpers, jackets, bags and rucksacks – also seen in Jun Zhou's London College of Fashion MA Menswear collection. Peruvian style hats and scarves made an appearance at Richard James's LC:M show (see above) and elsewhere, including the accomplished Peruvian textile inspired collection by LCF graduate Jasmine Haoyao Deng.
The hooded and balaclava-clad urban terrorist look popped up at Maharishi and a few other places. Shiny metallics and rockstar-ready gold were the order of the day at Sankuanz, Nasir Mazhar and Sir Tom Baker. At the opposite extreme, we saw leopard prints and bold floral motifs on shirts, jackets and coats at Burberry, Moschino, flowery jumpers, t-shirts and cropped jeans at Rachel James, pyjama-style pants (transeasonal designs are ideal for global warming)… and Sibling's punkish pink with cuddly toys (below right) delivered quite a culture shock. But why shouldn't boys have their Barbie moment?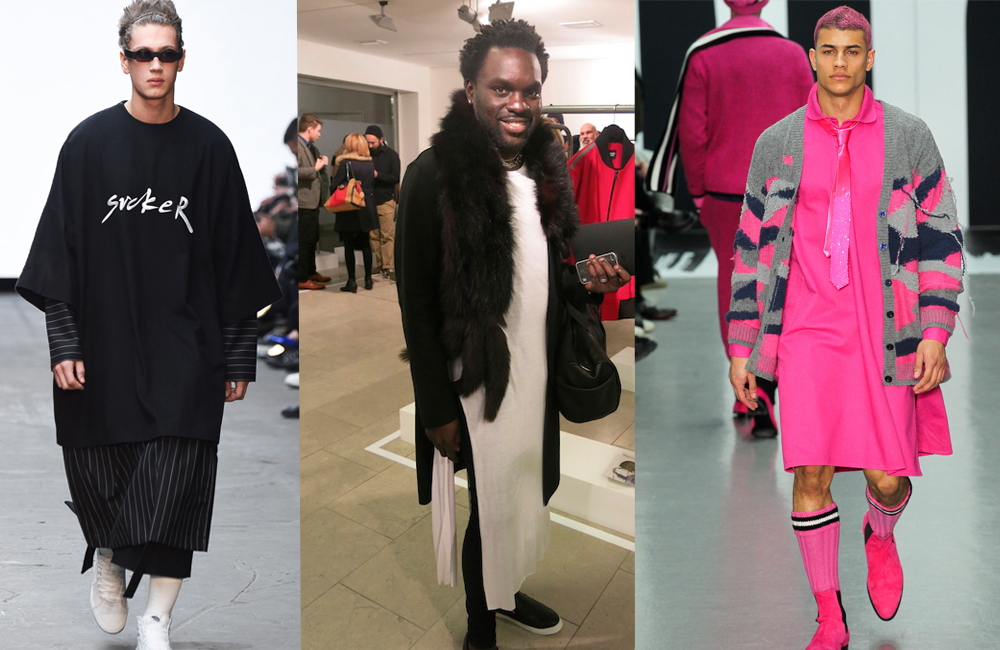 Culottes featured in a number of the collections, many indistinguishable from skirts. There were skirts too, plus dresses, tunics and overlong t-shirts, shirts, or jumpers that look like dresses, as at MAN (above left), Caseley Hayford and Sarah Hellen, to name just a few of the many. But all were eclipsed by the sheer artistry, originality and flowing robes of LCF MA graduates like Xiaoli Su and Gebei He. Not to mention the extraordinary capes, crocheted cardies, tunics and hats by Kitty Ng, creator of a new organic fur made from waterproof natural plant material based on the sustainable plant fibre raincoats worn by ancient Asian farmers, and manufactured using rapidly disappearing traditional handicraft skills in conjunction with high-tech kintting and weaving technology.
There's so much to choose from. Men will have some tricky decisions to make on the clothing front. Of course, in some cultures they already feel at home wearing kaftans and robes on the street. And Grayson Perry is an excellent role model. So should we expect to see more Western men wearing dresses towards the end of the year? Or fashion students at least? You bet.