March 28, 2014
Animal Lifestyle Trends: Pet-cessories or Substitute Children?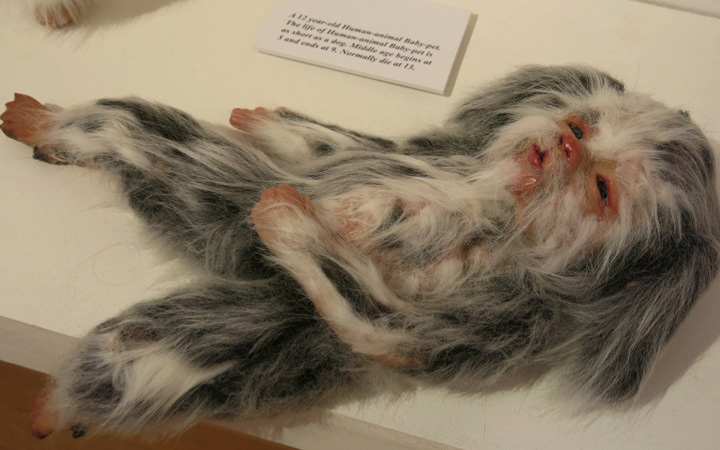 Adults have become frozen in time, wishing to remain childlike for as long as possible. Women are putting off having children until later in life, if at all.  Playful pets have become substitute children for many. Dogs have become a part of the family – people may share their bed with their dog, feed them the same organic food, take them for a drive, clean their teeth with an electric toothbrush. The dog has become an extension of its master, with dogs reflecting the style, taste and status of their owners.
Karl Lagerfeld's fluffy white kitten, Choupette, has two personal maids, her own iPad and twitter account – @ChoupettesDiary. Roja Dove's Siamese cat, Missy, has a bed made from an antique mink coat. Huffington Post's list of the Stupidest Pet Products ever includes Bowser Beer for dogs, a pet high chair, Doggles (sunglasses for dogs), a Croc styled cat bed, a 'Hot Doll' sex toy for dogs, a fence window and OPI's dog Nail Pawlish. If you can't be bothered to walk the dog, petspyjamas.com has a Fit Fur Life pet treadmill for £870. And it's not just cats and dogs… The Cage a Oiseaux, a rocking bird cage – to give pet budgies the feeling of being perched in a swaying tree, launched at the Milan Furniture Fair, subsequently appeared at the Conran Shop with a price tag of £1,895.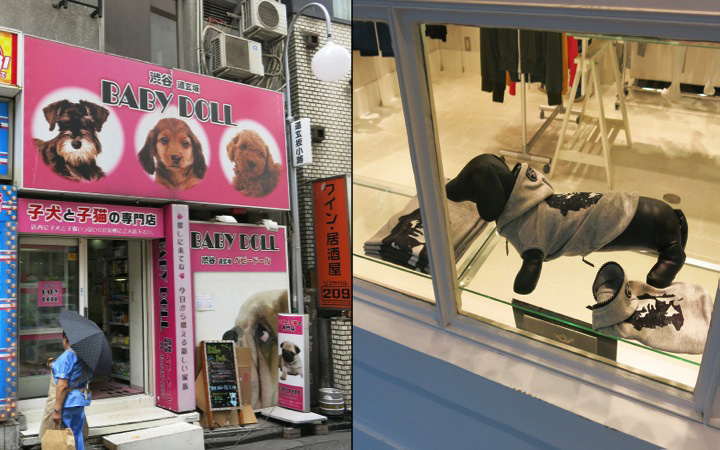 Animal Grooming:
Today's dogs are expected to be as well groomed and healthy as their owners. There are ranges of specially formulated fragrances for dogs. There are spa days, hair salons (with eco-friendly shampoo), facials, claw polishes, and even reiki for dogs. In fact there's something of a boom in complementary therapies for dogs – with herbal remedies like Old Faithful "for an active retirement" available from specialist companies such as PhytoForce. Suitably qualified practitioners are few and far between, but pet homeopathy, aromatherapy, chiropractic, flower remedies and magnet therapy are becoming more widely accepted alternatives to traditional veterinary methods. There are already 330 members of the Association of British Veterinary Acupuncturists in the UK. And turnover at online veterinary retailer/pet drugs provider, Medicanimal, increased from £16 million in 2011 to £47 million in 2012.
Pet plastic surgery is on the rise too, especially in America. Ozzy Osbourne is said to have paid for two facelifts for his dog. Liposuction, breast lifts, nose jobs and ear stiffening operations are regularly carried out – mainly on show breeds. It is 18 years since Missouri-based inventor, Gregg Miller, developed silicon testicles, called Neuticles.  These are implanted when dogs are neutered and the testicle sac becomes baggy. Sizes range from XXS to XXL. Kim Kardashian insisted on the largest size for her dog, Rocky. Until now, these have been ruled unethical in the United Kingdom, where they are considered to be a form of mutilation.
Animal Services:
As for feeding time, lap dogs and toy dogs are often taken by their owners to their favourite restaurant, where they sometimes eat from the same plate as their owners. London's Bluebird has run a 'doggy afternoon tea' with doggy cocktails, canapés and goodie bags. For Christmas, the Ritz Carlton Hotel in Laguna Beach California hosts a Yappy Hour Howl-iday Celebration. "This festive gathering of canines and their companions provides Fido with the opportunity to be photographed with the Big Dog himself – Santa Claus. Photos with Santa are $10 per canine. Guests are asked to bring unopened canned or dry dog food, treats or dog toys to be donated to the Shelter."
Private jet share company, Victor's (flyvictor.com) has set up a pet-owners' community to help animal lovers take their beloved pet with them on their travels. Dog owners can either pool together to charter a jet to their chosen location, or they can pay for an extra seat, allowing their dog to sit next to them. Trained pet handlers meet passengers with pets on arrival to check their dog's passport and microchip, ensuring a speedy passage through customs. The W Hotel's PAW (Pets are Welcome) programme offers a monogrammed pet bed, toys and a special treat at turn down. Harry Redknapp was famously reported as having a Monaco based bank account for his dog. Last November 5th (bonfire night) the world's first audio book for dogs was launched in the UK. Dogs, who along with other pets, can be terrified of the sound of exploding fireworks, are made to feel at ease whilst listening to the audio book instead of the loud noises outside.
There's a new online pet magazine and store called StyleTails.com, a social-networking site for dog-lovers called puppystream.me, there are dog sharing schemes and New York boasts the first dog membership club – the Ruff Club in East Village, a sort of Soho House for man's best friends. Lady Dinah's Cat Emporium has recently opened in London's Bethnal Green. This takes its model from the many cat cafes already open in Taiwan, China and Japan, where cat-lovers can enjoy a cup of tea or coffee in the company of their favourite animals.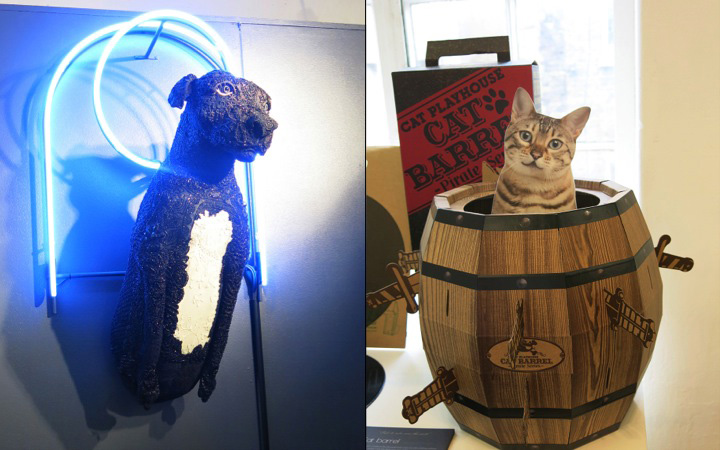 Animal Interiors:
Japanese graphic designer and curator Kenya Hara's venture, Architecture for Dogs, supplies free blueprints for 13 different DIY doghouses, each for a different breed. Hara came up with the idea of designer doghouses because he has "the impression that the whole world is interested in babies and dogs." Hara launched the project with two designs of his own at the end of last year, though the dogs the houses were tested out on didn't seem to be overly interested in making use of them. This was of little importance to Hara, who explained that the project was not for pets, but for architects who are encouraged to download drawings and view instructional videos, as well as uploading photographs of their pets' houses. 
The barrel playhouse, (above) was created to help cat owners interact with their pets. The unique design is "guaranteed to drive cats crazy" and it's made of corrugated paper, which is as "secure and safe for the environment as it is for cats." Then there are animal inspired home accessories like Donya Coward's hand embroidered saintly dog lamp, which reminds the owner of his/her best friend. 
Founder of online boutique Love My Dog, Lilly Shahravesh designs Harris Tweed dog coats in colours chosen especially to match the complexions of different dog breeds. She also provides dog and cat beds to match owners' décor. The folding dog bowl and dog 'bubble' (below) by Arquipets, are designed to "combine architecture and decoration with practicality and pet comfort."
Dogs are increasingly being taken into the workplace, a practice that is not without its risks: The fashion world was in mourning when Tatler's tweeting dachshund was inadvertently killed in a revolving door tragedy. Alan TBH Plumptre was being taken for a walk by an unsuspecting intern, when the dog's neck became caught in a revolving door at Vogue House. Two fire engines and ten firefighters were sent, but Alan could not be saved.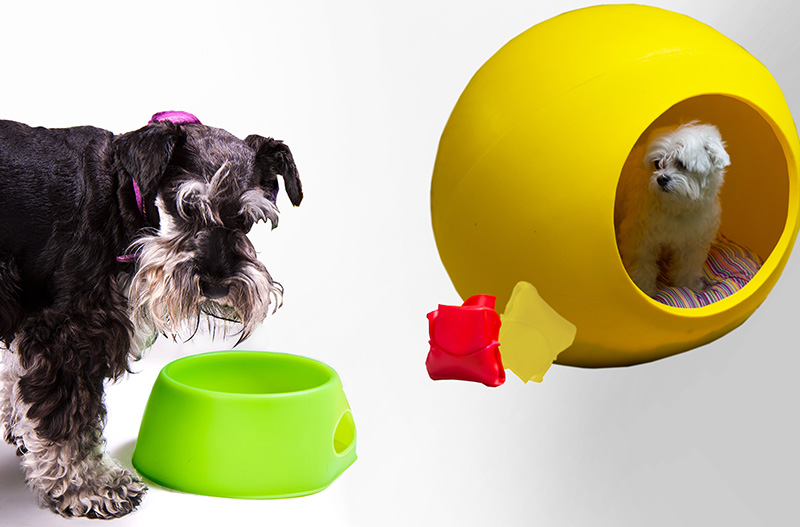 Animal Sociology:
Conflict theorists may believe that animals are being exploited for human gain. The rise in demand for 'handbag dogs' as seen in the bags of Paris Hilton, Jennifer Lopez and Cheryl Cole has resulted in an explosion in the number of Chihuahuas being abandoned. Animal rescue centres are becoming inundated with unwanted toy dogs. Many of them have to be put down. At the same time, the focus on toy dogs and pedigrees as coveted possessions has led to a rise in pet crime, with Chihuahuas, Pugs, Shi-Tzus and Spaniels being top of the list of dogs abducted. There have even been pet shop ram raids in London, and owners are advised not to leave their dogs tied up outside shops. Police are loath to issue a crime reference number for such incidents, though a private firm called The Pet Detectives investigates 'crimes against animals.' From April 2016 it will be compulsory for dogs in the UK to be micro-chipped, but with growing pressure on living standards, stray dogs could become a significant problem.
Another terrifying prospect is that animal-human relations could change beyond all recognition. It is often said that pets look like their owners, but RCA graduate Lingxizhu Meng goes one stage further… What if the act of genetically combining human and animal DNA were not illegal and did not violate moral and ethical codes of conduct? Meng's installation presents the chilling possibility of a 'Human-Animal-Baby-Pet," envisioning how synthetic biology might satisfy a biological urge from "wannabe grandparents, busy couples, those who are economically insecure, or not ready to commit to the lifelong responsibility of having a child." Meng considers the possibility of creating a baby that closely resembles the parent, but has the behavioural characteristics and lifespan of a dog.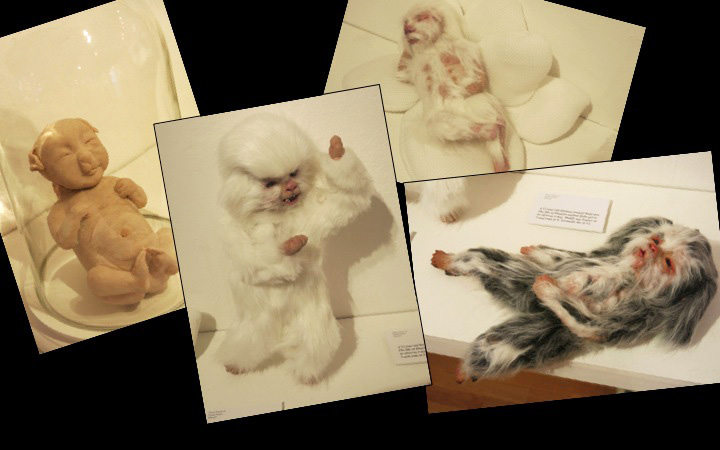 Dog-loving Lady Victoria Hervey told You Magazine "becoming a mother will be child's play for me. A baby is easy… You just hand them over to your nanny."  Meanwhile, Simon Cowell, anxious that his beloved Yorkshire Terriers Squiddly and Diddly may become jealous of newborn son, Eric, has hired a dog trainer to help them adjust. Perhaps we should be less concerned about humans becoming intimately attached to their pets and more worried how pampered pets will ever survive without their doting surrogate parents?
Reproduced from an article in Visuology Magazine, Issue 1