February 19, 2019
Couture Dreams Are Made of This: Dior at the V&A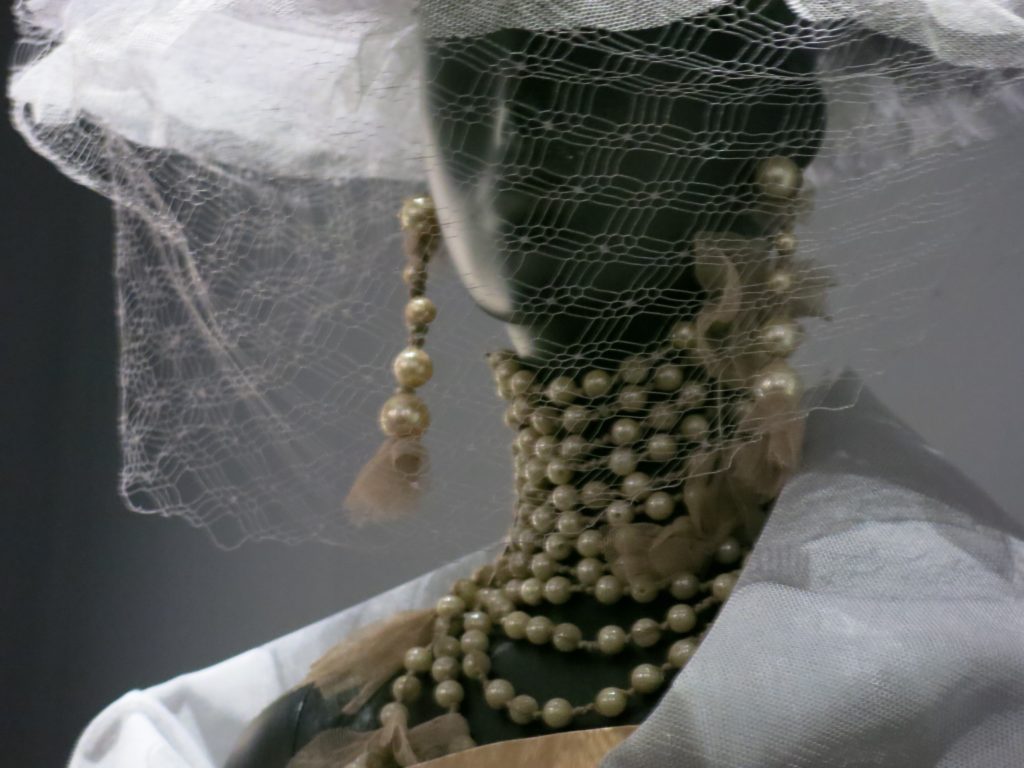 Descending a staircase adorned with trademark fashion illustrations to a narrow entrance area featuring Dior's New Look, I realize this is likely to become a bottleneck for visitors, though probably not as uncomfortable as being squeezed into the 19-inch waist of the silk Shantung jacket from the Bar suit that has come to epitomize the house of Dior's Corolle silhouette. In the next corridor of a space, liquid-black-backed cubicles make the perfect backdrop for photographs, and the simple outlines of Dior's distinctive designs – the Dior Line – are displayed to full effect.
The contrasting presentation of a Dior in Britain room – newly created for the show – perhaps reflects the addition of this to the original 70th anniversary exhibition at the Musée des Arts Decoratifs in Paris in 2017. With the exception of Princess Margaret's tiny-waisted and elaborately embellished 21st birthday dress, as famously photographed by Cecil Beaton, this space seems to reflect less the glitzy glamour usually associated with the brand and more the old-fashioned stuffiness of aristocratic Britain in the 1950s, although these designs would have been far from frumpy in their day. Optimum viewing of the upper-tier mannequins may be restricted by large numbers of visitors, but the sculptural effect of multi-layered petticoats beneath full-skirted dresses can be observed by looking up from directly below. The room echoes Dior's fascination with British culture. He loved "English traditions, politeness, architecture" – he even loved "English cooking". His fashion shows were held in country houses and grand hotels like the Savoy, he dressed debutantes, and eventually set up a Conduit Street boutique – headed by Marc Bohan – in 1961. Moreover, of the six artistic directors since Christian Dior's death, British designer, John Galliano, is arguably the only one who has added his distinctive style to that of the master. One can only marvel at the way Galliano has inventively managed to incorporate elements of Belle Époque dress (inspired by Dior's mother, Madeleine), 1950s pin-up girls, Empress 'Sisi' of Austria and Samurai style – without detracting from the essence, or even the Dioressence, of the house.
In a classically pillared room full of French court style frock coats and crinolines, the perfume, Miss Dior, named after Monsieur's sister, is placed on a pedestal in its own temple by Victor Grandpierre, based on the Temple of Love at the Petit Trianon at Versailles. The scent has been through a number of marketing incarnations in its 72-year history, but sales are as strong as ever – with revenues of perfumes and cosmetics up 17% in 2018, thanks largely to the iconic status of Miss Dior and J'Adore. A separate section devoted to Dior fragrances demonstrates attentiveness to luxury product design and the aesthetics of packaging, which has clearly paid off for the brand. Yet, unless my sense of smell escapes me, there is no attempt to engage the olfactory senses of visitors to this show.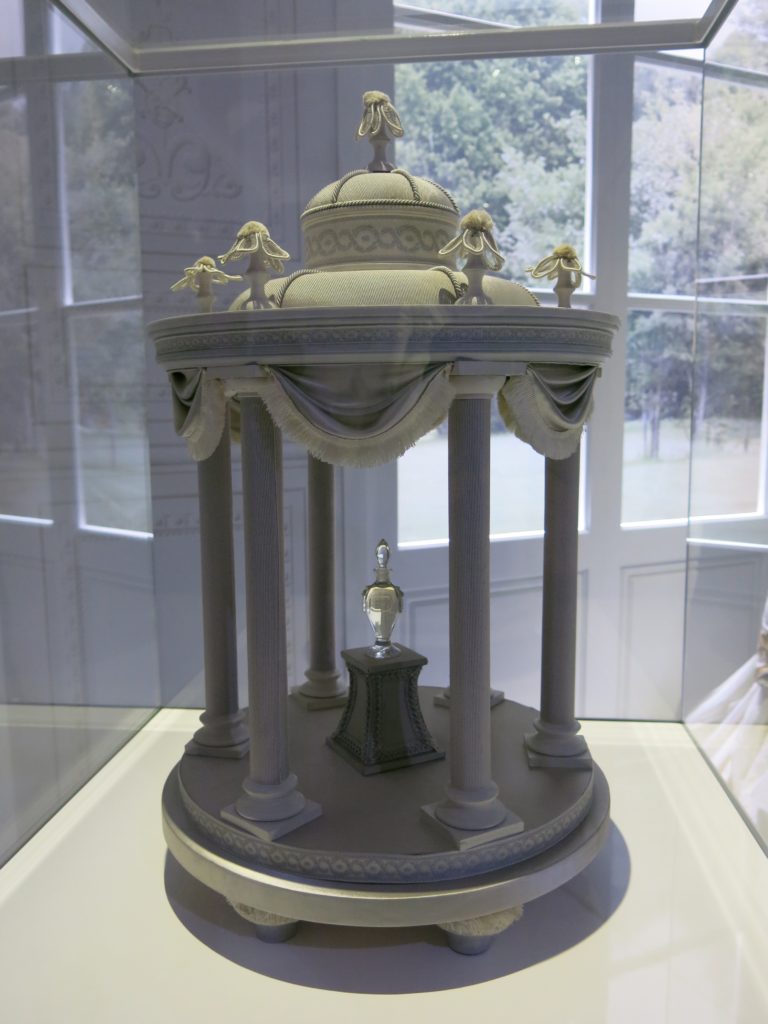 Dior's love of travel and gardens (no fragrance here either) is represented by larger displays of his and other house designers' work. The international extravaganza – inspired by the founder's global travels takes us on a vibrantly-hued tour of Egypt, Mexico, India, China and Japan. Attention to detail is everywhere, from pin-tuck pleats, to embroidery, draping, Swarovski crystals, feather, lace and shell embellishment – perhaps most of all in the enchantingly decorated flower room, with Dior's intricately embroidered Lily of the Valley dresses and Maria Grazia Chiuri's pastel-shaded, ethereal, petalled-tulle gowns. In contrast, the stark whiteness of the ateliers' display highlights the important technical contribution of the 'petites mains' in the workroom, where they are tasked with producing cotton toiles of the designers' drawings to their exacting specifications.
What I like most about this exhibition is the opportunity to explore the various approaches of the different designers. Currently at the creative helm is Maria Grazia Chiuri, the first female artistic director at Dior. We get to see not only her creations, but also her moodboard and how it translates into designs, some referencing 16th century 'millefleur' tapestries. Contrasts in style are perhaps most evident in the Diorama dedicated to accessories, where Marc Bohan's 1960s and '70s pieces are set alongside more recent contributions. Whilst it is possible to compare Roger Vivier's satin brocade slippers with Galliano's towering platforms and Raf Simons's Perspex heeled boots, nothing looks particularly dated or out of place. There is a sense of timeless elegance – even Galliano's boldly coloured kneepads and Chiuri's sci-fi-style 'mystic masks' sit happily alongside Bohan's delicate costume jewellery and the more classic millinery of early collections.
Exhibition designer, Nathalie Crinière, has gone to town on the ballroom – where the light of day dissolves into twinkling starry skies, enabling visitors to pick out the constellations. Stars were of special significance to Dior, who was determinedly superstitious and carried lucky charms, like the five-pointed star he found outside the British Embassy in Paris the evening before he met Marcel Boussac the future financier of his fashion house. There are constellation inspired pieces by Chiuri, and an opportunity to experience the array of bejewelled and beaded gowns shimmering as they would on a moonlit night. Also featured are Hollywood stars, or at least the dresses they have worn on the red carpet. Curator, Oriole Cullen, has not stinted on the glitz either: many of the evening ensembles are gold, a recurring theme at Dior. Jean Cocteau pointed out that the name Dior combines the words 'dieu' and 'or' – 'god' and 'gold'.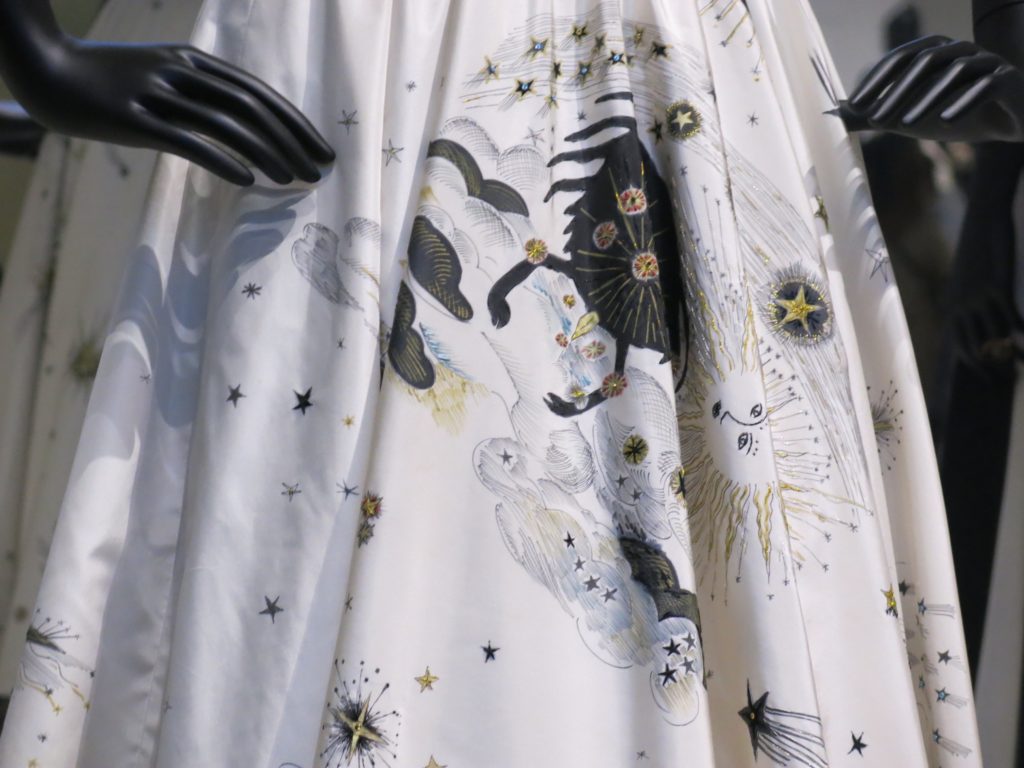 Chiuri's confection based on a 1950s promotional fan design is the penultimate 'ta-da' before the final curtain – an Insta-friendly film of a catwalk viewed through the famous mirror-like elipse synonymous with one of the world's most renowned luxury brands. Christian Dior's 1957 statement that, "haute couture is one of the last repositories of the marvellous," still rings true. Despite the 'fashion selfie' being the modern day equivalent of dressing up for a ball, this show manages to perpetuate the magic and the wonder, helped by the relative absence of digital diversions or pushy commercial hype from sponsors Swarovski and American Express – by allowing visitors to focus on the House of Dior's key strengths: formidable design and masterfully executed craftsmanship.
Christian Dior: Designer of Dreams is at the V&A from 2nd February until 14th July, 2019.
This article originally appeared at susanmuncey.com